Credit to Vogue Taiwan via CC Attribution 3.0
Is there anyone who can embody the essence of Latin pop music quite like Shakira? Her journey from a young Colombian artist to a global sensation has not only been a highlight of her undeniable talent but also a defining chapter in Latin pop music history. Shakira's meteoric rise to fame is a narrative of raw talent, unwavering determination, and an unyielding commitment to her art. Here is a fascinating exploration of the enduring influence that Shakira has exerted on the Latin pop music scene. Let's dive into the multifaceted aspects that have not only set her apart but have also made her an indomitable force within the industry.
A Musical Prodigy from Barranquilla
Shakira's story begins in Barranquilla, Colombia, where her natural gift for music was evident from a young age. She started writing poetry at four and composed her first song at just eight. Her early exposure to diverse musical styles, including Middle Eastern and Latin rhythms, would later infuse her work with a rich tapestry of influences that set her apart in the Latin pop world.
Shakira's Signature Sound
One of Shakira's most enduring legacies in Latin pop is her ability to seamlessly blend genres. She's not confined by boundaries and has masterfully combined elements of pop, rock, and traditional Colombian sounds in her music. Her willingness to experiment and evolve has kept her sound fresh and appealing to a wide range of audiences.
The Global Impact of "Laundry Service"
In 2001, Shakira's fifth studio album, "Laundry Service," marked her crossover into the English-speaking music world. The album's lead single, "Whenever, Wherever," became an instant sensation, captivating audiences worldwide. Shakira's fusion of Latin and global pop in this album was groundbreaking and set the stage for her global success.
Iconic Dance Moves
Shakira's unique dance style, influenced by both Middle Eastern and Latin American traditions, has become a defining element of her image. Her belly dancing, hip-shaking, and captivating stage presence have made her performances unforgettable. These moves have not only set her apart but have also had a profound influence on the dance styles of future Latin pop artists.
Songwriting Genius
Shakira's poetic songwriting has been a hallmark of her career. Her ability to craft meaningful and relatable lyrics has resonated with a vast and diverse audience. Whether in Spanish or English, her songs tell stories, touch hearts, and connect people across linguistic and cultural divides.
Charitable Endeavors and Societal Influence
Beyond her musical career, Shakira's philanthropic work has left a lasting imprint on Latin America. She founded the Barefoot Foundation, dedicated to providing quality education to disadvantaged children. Her commitment to social causes and children's rights has earned her recognition as a UNICEF Goodwill Ambassador.
The Art of Reinvention
Shakira's career has been marked by a series of successful transformations. She consistently evolves her sound and image, keeping her music fresh and her audience engaged. From her early pop-rock days to the reggaeton-inspired hits of recent years, Shakira's adaptability and creativity have ensured her relevance in the ever-changing music industry.
A Role Model for Latin Pop Artists
Shakira's impact on Latin pop music extends beyond her chart-topping hits. She has become a role model for aspiring Latin pop artists, particularly female performers. Her success and determination have shattered stereotypes and paved the way for a new generation of talent. Shakira has shown that Latin pop is not limited to a particular style or language but is a global phenomenon that transcends boundaries.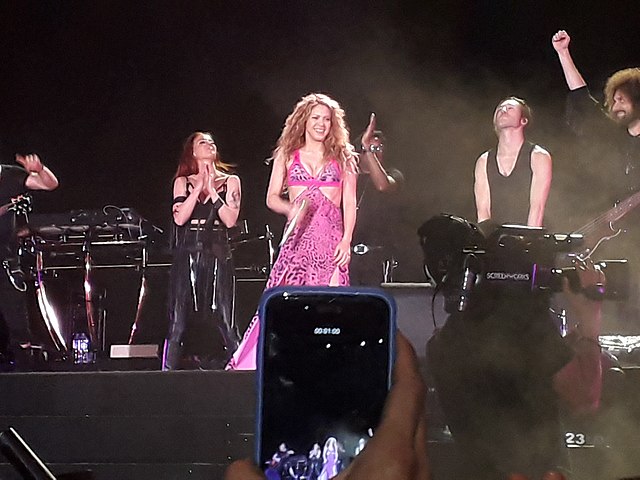 Credit to J.ébey via CC Attribution-Share Alike 4.0
Gearing Up for Global Tour for 2024
Shakira has recently made an exciting announcement regarding her world tour set for 2024. This upcoming tour is still in its preliminary stages of planning but promises to be an unforgettable journey spanning nearly two dozen countries. Her tour will encompass regions in Latin America, North America, the United Kingdom, Europe, and the Middle East, treating fans across the globe to her electrifying live performances.
The 2024 tour will be a celebration of Shakira's album. This eagerly anticipated album expected to offer a rich blend of pop, Latin, and world music, featuring songs in both English and Spanish. Shakira's ability to seamlessly weave diverse musical genres into her work has been a hallmark of her career, and this album is poised to be no exception.
Known for her dynamic stage presence and the ability to sell out venues, Shakira is determined to raise the bar even higher. In a recent interview, she expressed her enthusiasm to embark on this global journey, promising a tour that will surpass all expectations.
While fans eagerly await further details regarding specific dates and venues, there are already some exciting features to anticipate from Shakira's tour in 2024:
A Spectacular Setlist: The tour will blend Shakira's greatest hits with fresh tracks from her upcoming album, ensuring a memorable musical experience for fans.
A Worldwide Reach: With performances scheduled in arenas and stadiums across the world, Shakira is bringing her music to audiences far and wide.
Visual Extravaganza: Shakira's shows have always been visually stunning, with elaborate stage sets and captivating costumes.
Stellar Company: The artist will be joined by a talented ensemble of dancers and musicians who will contribute to the tour's extraordinary energy.
A Cultural Celebration: Shakira's tour is not just a musical journey; it's a celebration of her heritage, artistry, and the universal language of music.
Attendees can anticipate a thrilling lineup featuring Shakira's greatest hits, including chart-toppers like "Hips Don't Lie," "Whenever, Wherever," "La Tortura," and "Waka Waka (This Time for Africa)." Additionally, Shakira's forthcoming album will be showcased, offering a fresh infusion of her unique style and sound.
Shakira's 2024 tour promises to be an unmissable event for music enthusiasts worldwide, uniting people through the magic of her music and the universal language of rhythm.
Related Articles: