Credit to cosmopolitanuk via CC Attribution 3.0
Timeless Melodies That Define an Era. In the ever-evolving landscape of pop music, Taylor Swift stands as an icon, a storyteller, and an artist whose hits have left great music on the world. Her journey from the country prodigy with a guitar to the pop sensation with a multitude of Grammys is perfectly confined in her greatest hits. Take this journey through the tracks that have defined Taylor Swift's career, from her early days to her triumphant return.
1. "Tim McGraw"
Taylor Swift's debut single, "Tim McGraw," not only launched her career but also unveiled her distinctive songwriting prowess. Released in 2006, this heartfelt ballad was an emotional rollercoaster that resonated with listeners of all ages. Swift's ability to paint vivid pictures with her lyrics was already apparent, as she transported us into the world of first love and nostalgia.
"Tim McGraw" set the stage for her future chart-toppers and laid the foundation for her reputation as a musical storyteller. With this song, she staked her claim as an artist who could tap into universal emotions, making her relatable to countless fans worldwide.
2. "Love Story"
"Love Story," released in 2008, marked a pivotal moment in Taylor Swift's career. It was not just a song; it was a modern-day fairy tale set to music, reimagining Shakespeare's timeless love story of Romeo and Juliet. Swift's ability to effortlessly weave narratives into her songs reached its pinnacle with this track.
The song's enchanting melodies and poetic lyrics spoke to listeners of all ages, capturing the essence of young love and its challenges. "Love Story" became an anthem for teenagers worldwide, drawing them into its enchanting world of star-crossed lovers. It solidified Taylor Swift's status as a pop-country sensation and foreshadowed her future as a musical powerhouse, proving that her storytelling abilities knew no bounds.
3. "You Belong with Me"
In the same transformative year of 2008, Taylor Swift gifted us with the iconic "You Belong with Me." This catchy tune explored the depths of unrequited love, striking a chord with hearts around the world. Taylor's lyrical prowess and relatable storytelling shone brightly in this song, making it an instant anthem for those navigating the complexities of love and longing.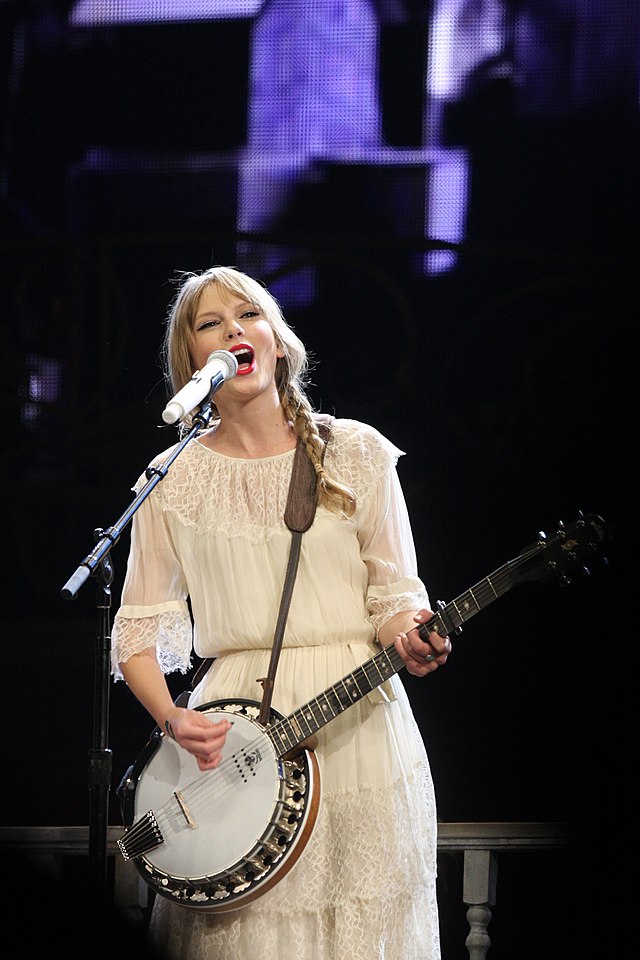 Credit to Eva Rinaldi via CC Attribution-Share Alike 2.0
But it wasn't just the music that made this track unforgettable; it was the groundbreaking music video. In it, Taylor played dual roles, portraying both the relatable girl-next-door and the antagonist. This visually compelling narrative added depth to the song's storyline and solidified its status as a classic. "You Belong with Me" not only showcased Taylor's incredible talent but also marked a significant moment in the music video landscape, setting a new standard for storytelling within the medium. It remains a timeless gem in Taylor Swift's illustrious career.
4. "Blank Space"
In 2014, Taylor Swift's "Blank Space" from her '1989' album marked a significant milestone in her musical evolution. This pop sensation showcased Taylor's seamless transition into the pop genre while maintaining her signature lyrical depth and storytelling. The song's narrative dives headfirst into the whirlwind of love, capturing the intensity and vulnerability that comes with it.
Taylor's portrayal of a character with a "long list of ex-lovers" who may perceive her as "insane" added layers of complexity to her songwriting. "Blank Space" wasn't just about the music; its music video was a visual spectacle. With opulent aesthetics and stunning cinematography, the video brought the song's narrative to life. It played with themes of love, obsession, and decadence.
5. "Shake It Off"
Released in 2014 alongside "Blank Space," "Shake It Off" marked a dynamic shift in Taylor Swift's musical style. It became the ultimate anthem of self-acceptance and resilience, resonating with listeners from all walks of life. With its infectious beat and sing-along chorus, "Shake It Off" showcased Taylor's ability to create irresistibly catchy, danceable tunes. But beneath the surface, the song carried a powerful message of empowerment—encouraging everyone to brush off negativity and simply be themselves.
The accompanying music video further amplified the song's message. It featured Taylor boldly and playfully embracing different personas and dance styles, celebrating individuality and diversity. "Shake It Off" not only displayed Taylor's musical versatility but also affirmed her role as a cultural influencer who championed self-confidence and authenticity. It became an anthem of resilience and an enduring reminder that it's okay to shake off life's challenges and keep dancing to your own beat.
6. "Bad Blood"
"Bad Blood," Swift's chart-topping hit from her "1989" album, is a fiery anthem fueled by emotions of betrayal and resilience. The song is a vivid portrayal of the rupture of a once-close friendship, sparking widespread speculation and intrigue among fans and the media. With its unforgettable chorus and powerful lyrics, it swiftly became a pop culture phenomenon.
The song's chorus, with the now-iconic line "Band-Aids don't fix bullet holes," captures the essence of the emotional wounds inflicted by a broken friendship.
Taylor's impassioned delivery and her refusal to sugarcoat her feelings resonate deeply with listeners. The accompanying music video, directed by Joseph Kahn, is a star-studded spectacle that further fueled the intrigue. It features Taylor Swift alongside an ensemble cast of celebrity friends-turned-foes, adding a layer of drama and cinematic flair to the narrative.
7. "Look What You Made Me Do"
Released in 2017 as part of her "Reputation" album, "Look What You Made Me Do" marks a defining moment in Taylor Swift's career. The song is a striking departure from her earlier work, embracing a darker and more confrontational persona. It serves as a powerful response to the controversies and criticisms that have swirled around her, with the chorus's repeated line, "Look what you made me do," conveying a sense of reclamation and empowerment.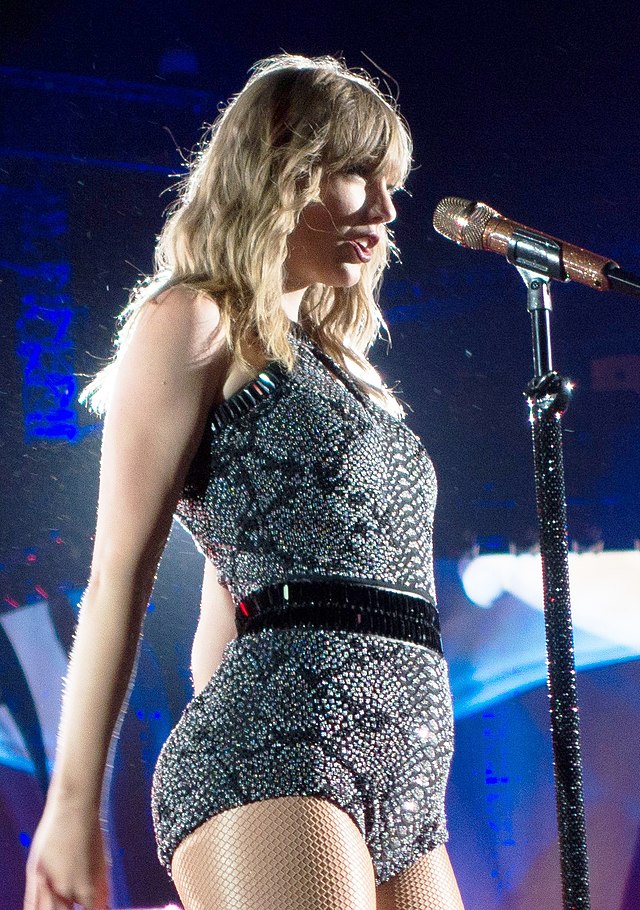 Credit to UltimateWarrior13 via CC Attribution-Share Alike 4.0
The accompanying music video, directed by Joseph Kahn, is a visual masterpiece laden with hidden references and symbolic imagery. Swift's transformation into various personas from her past symbolizes shedding old identities and emerging stronger. "Look What You Made Me Do" is a declaration of self-assertion, showcasing Taylor's resilience and her willingness to confront challenges head-on.
8. "Lover"
"Lover," released in 2019 as the title track of Taylor Swift's album, is a beautiful and heartfelt ballad that harkens back to her country roots. This song is a poetic declaration of enduring love, capturing the essence of romantic devotion and commitment. Taylor's lyrical prowess shines as she crafts vivid imagery of love as an unbreakable bond. The chorus, with its plea for standing together through thick and thin, resonates deeply with listeners, making it a cherished addition to wedding playlists worldwide.
The music video for "Lover" adds another layer of charm to the song, featuring Taylor and actor Christian Owens in a cozy, vintage-inspired domestic setting. The video captures the warmth and simplicity of love, emphasizing the importance of the small, intimate moments in a relationship. "Lover" is a reminder that amidst the complexities of life, love remains a source of solace and strength.
9. "cardigan"
In 2020, Taylor Swift gifted the world "cardigan," a soulful ballad that transports listeners to the realms of nostalgia and lost love. Part of her "Folklore" album, this song marked a departure from her signature sound, delving into an introspective, folk-infused style. The melancholic yet mesmerizing melodies of "cardigan" resonate with raw emotion, as Taylor's evocative lyrics vividly paint a picture of a past romance.
The song's title, "cardigan," becomes symbolic of comfort and familiarity in the context of a fleeting love affair. The accompanying music video, directed by Taylor herself, enhances the song's poignant storytelling, immersing viewers in a world of memories and longing. "cardigan" stands as a testament to Taylor Swift's ability to evolve artistically while maintaining her lyrical brilliance. It invites listeners to join her on an intimate journey through the bittersweet emotions of love's remembrance, making it a treasured gem in her discography.
10. "All Too Well (10 Minute Version)"
In 2021, Swift gifted her fans an extended masterpiece with "All Too Well (10 Minute Version)" as part of her "Red (Taylor's Version)" album. This song is an emotional tour de force, delving even deeper into the complexities of a past relationship. Taylor's lyrical genius shines as she vividly recounts the nuances and heartbreak of a love that has since faded.
The song's extended duration allows for a more profound exploration of the emotions and memories associated with the relationship. The additional verses and bridge provide a richer narrative, painting a poignant picture of love and loss. "All Too Well (10 Minute Version)" uses Taylor's ability to capture the rawness of human emotions and transform them into poetic storytelling. It stands as an epic journey through heartbreak, and its release was a momentous occasion for fans who had longed to hear the full, unfiltered version of this beloved track.
Final Thoughts
From the raw emotions of early country ballads to the electrifying anthems of her triumphant return, Swift's career has been a remarkable journey through the realms of love, heartbreak, growth, and self-discovery. As we conclude our exploration of her greatest hits, her songs are not just lyrics and melodies but windows into the myriad facets of life and the human experience.
Taylor Swift's music has a timeless quality reminding us that great songs are not confined to moments but are woven into the very fabric of our lives. With each track, she captures a piece of our hearts, and her playlist stands as a testament to the enduring power of her artistry.