Credit to Sea Cow via CC Attribution-Share Alike 4.0
While Wrigley Field is primarily known as a baseball stadium, it has also earned recognition as a versatile entertainment venue. In addition to hosting Cubs games, Wrigley Field has welcomed some of the biggest names in music for unforgettable concerts. Its capacity to transform from a baseball diamond to a concert stage is a testament to its adaptability.
Over the years, legendary artists like The Beatles, Bruce Springsteen, The Rolling Stones, Queen, and many others have graced the stage at Wrigley Field, leaving records on its storied history. The ballpark's location in the vibrant Wrigleyville neighborhood adds to its appeal, offering visitors a unique blend of sports, music, and local culture. Wrigley Field continues to be a great symbol of Chicago's spirit and enduring tradition.
Wrigley's Musical Odyssey
Wondering how this hallowed baseball diamond transformed into a stage for some of the world's most renowned musical artists? The story of Wrigley Field, the iconic home of the Chicago Cubs, takes an exciting turn when the sun sets over the Friendly Confines. Over the years, this legendary stadium has not only witnessed unforgettable baseball moments but has also played host to an incredible lineup of musical acts that have left their mark on the hearts of music enthusiasts.
Legendary Artists Who Have Graced Wrigley Field
1. The Beatlemania Invasion
Our journey through Wrigley Field's musical legacy begins with the British Invasion of 1965. The Fab Four themselves, The Beatles, took the stage at Wrigley, marking a momentous occasion in the stadium's history. Their performance, filled with the hysteria of Beatlemania, was a defining moment in the annals of rock 'n' roll. Fans from across the nation flocked to Wrigley Field to catch a glimpse of John, Paul, George, and Ringo, making it a night that remains etched in the memories of those who were lucky enough to be there.
2. The Boss at the Ballpark
Fast forward to 2012, and Wrigley Field was rocked to its core by none other than "The Boss" himself, Bruce Springsteen. Springsteen's marathon performances are legendary, and he brought his unparalleled energy and passion to the Friendly Confines.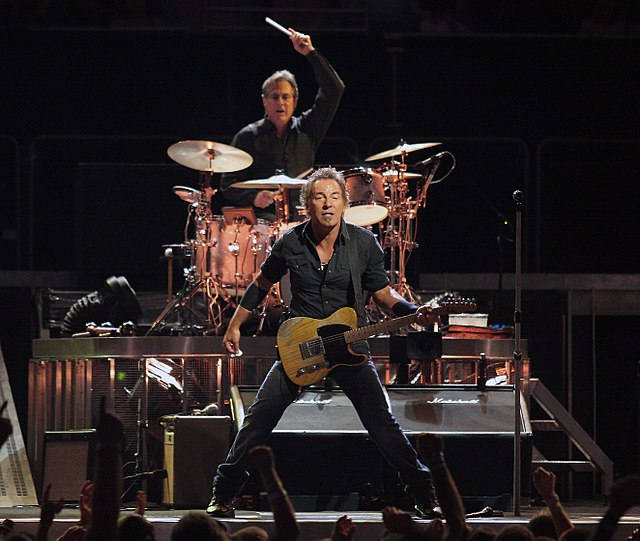 Credit to Craig ONeal via CC Attribution-Share Alike 2.0
His renditions of classics like "Born to Run" and "Thunder Road" echoed through the ivy-covered walls, creating an electric atmosphere that will forever be associated with Wrigley Field.
3. Pearl Jam's Homecoming
Wrigley Field holds a special place in the hearts of the members of Pearl Jam, particularly Eddie Vedder, a proud Chicagoan. In 2013, Pearl Jam made Wrigley Field their home for two unforgettable nights. Their performances not only showcased their hits but also paid homage to the city's rich musical history. Vedder's emotional connection to the venue was palpable, and fans were treated to an extraordinary blend of music and local pride.
4. The Rolling Stones' Rock 'n' Roll Circus
When it comes to rock 'n' roll, there are few bands as legendary as The Rolling Stones. In 2019, Mick Jagger, Keith Richards, and company brought their iconic brand of music to Wrigley Field. The stadium, often referred to as the "rock 'n' roll circus" that night, witnessed the timeless classics of rock royalty. From "Paint It Black" to "Angie," The Rolling Stones delivered a performance that cemented Wrigley Field's status as a premier concert venue.
5. The Queen's Reign
In 2014, Wrigley Field played host to rock royalty once again when Queen + Adam Lambert graced the stage. Lambert's extraordinary vocal range and charisma combined seamlessly with the band's timeless hits, paying a fitting tribute to the late Freddie Mercury. The iconic "Bohemian Rhapsody" echoed through the ballpark, uniting fans in a moment of pure musical magic.
6. Country Charm with Zac Brown Band
Wrigley Field's appeal goes beyond rock 'n' roll and pop. In 2016, the Zac Brown Band brought their country charm to the ballpark. Their blend of country, rock, and folk had the audience dancing in the aisles. Hits like "Chicken Fried" and "Colder Weather" transformed the stadium into a heartwarming, down-home celebration of music.
7. Legends of Jazz: Dave Matthews Band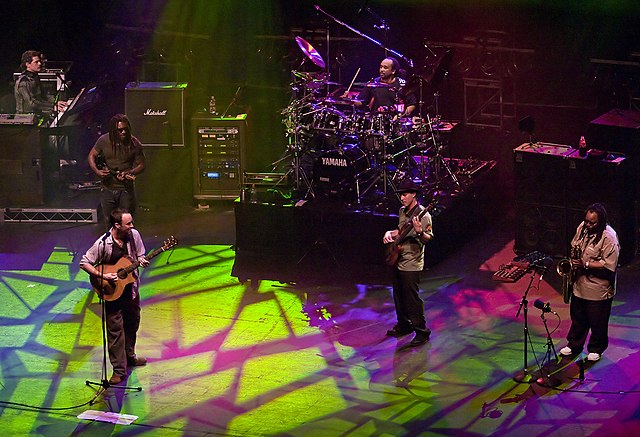 Credit to Diliff via CC Attribution 2.5
In 2000, Wrigley Field welcomed the Dave Matthews Band, known for their intricate fusion of jazz, rock, and folk. Their performance showcased both their musicianship and the versatility of Wrigley Field as a venue.
8. Pop Extravaganza: Lady Gaga's Spectacular Show
In 2017, Wrigley Field played host to the inimitable Lady Gaga. Her spectacular performance, complete with elaborate costumes and high-energy dance routines, turned the ballpark into a pop extravaganza.
9. Hip-Hop in Wrigley Field: Billy Joel and Eminem
Billy Joel and Eminem are two artists from vastly different genres, but both left their mark on Wrigley Field. Joel's melodic classics and Eminem's electrifying rap performances showcased the venue's versatility.
Future Stars and Timeless Classics: The Wrigley Field Legacy
As we conclude our journey through Wrigley's musical odyssey, one thing becomes abundantly clear: this historic baseball stadium has become a living avenue to the power of music to unite, inspire, and create lasting memories. From The Beatles to Bruce Springsteen, Pearl Jam to The Rolling Stones, Queen to Zac Brown Band, Dave Matthews Band to Lady Gaga, and Billy Joel to Eminem, the Friendly Confines have seen it all.
The question now is, who will be the next legend to grace this iconic stage and add to the legacy of Wrigley Field's musical journey? Until then, let the echoes of past performances remind us of the magic that happens when music and history converge at this hallowed venue. Wrigley Field, the "Friendly Confines," remains a timeless destination for both baseball and music enthusiasts alike.