Credit to Nicki Spunar via CC Attribution-Share Alike 2.0
Have you ever questioned where Nashville's real heart is? Bridgestone Arena, which is situated in the center of Nashville, is a magnificent example of the area's long musical history. The Nashville Predators' arena is just one of its many attractions, but it also serves as a booming center for live entertainment, drawing visitors who love music from all over the world. Join us as we unravel the storied past, distinctive characteristics, and amazing experiences that make Bridgestone Arena Nashville the quintessential stage for live entertainment.
What makes Bridgestone Arena an Iconic Stage for Live Entertainment?
A Legacy of Music and Sports
Bridgestone Arena, formerly known as the Nashville Arena and the Gaylord Entertainment Center, was inaugurated in 1996. Its multifaceted purpose as both a sports arena and concert venue is what sets it apart. Notably, it's the home ice for the NHL's Nashville Predators and the stage for countless A-list musicians. This dual identity makes it a venue like no other, where the roar of the crowd and the hum of amplifiers coalesce.
The Acoustic Marvel
One of the arena's most striking features is its impeccable acoustics. Unlike some cavernous venues, Bridgestone's sound quality remains consistently top-notch, thanks in part to its innovative design, including a steel roof that helps reflect and amplify sound. Whether you're in the front row or in the nosebleeds, you're in for an auditory treat.
Behind-the-Scenes Magic
What goes on behind the curtain is often as fascinating as what happens onstage. Bridgestone Arena offers exclusive backstage tours, allowing fans to explore the inner workings of this entertainment behemoth. Visitors can walk through the dressing rooms, see the green rooms where artists prepare, and even step onto the arena floor to experience it from a performer's perspective.
Nashville's Concert Epicenter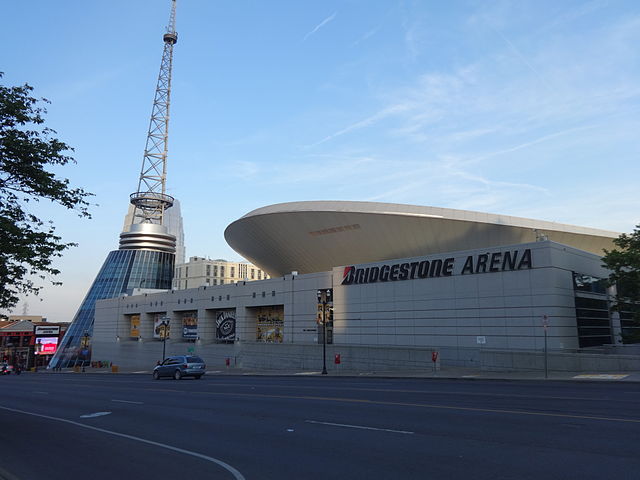 Credit to Michael Rivera via CC Attribution-Share Alike 4.0
With a seating capacity of over 17,000, Bridgestone Arena is a magnet for world-renowned artists and bands. From rock legends to country superstars and pop sensations, it's a stop on nearly every major tour. The arena has witnessed unforgettable performances by the likes of Paul McCartney, Taylor Swift, and Beyoncé, leaving indelible memories in the hearts of music enthusiasts.
Sustainability and Community
Beyond entertainment, Bridgestone Arena takes its role in the Nashville community seriously. The venue has implemented numerous sustainable initiatives, such as energy-efficient lighting and recycling programs. Additionally, it serves as a gathering place for charitable events and fundraisers, contributing to the well-being of the city it calls home. It plays a vital role in supporting local causes, extending its impact beyond entertainment.
A Future Full of Promise
As Nashville continues to grow and evolve, Bridgestone Arena remains at the forefront of the city's cultural renaissance. With ongoing renovations and enhancements, including the addition of premium seating and cutting-edge technology, the arena is poised to deliver even more unforgettable experiences for generations to come.
Iconic Moments in Music History
Over the years, Bridgestone Arena has played host to some of the most iconic moments in music history. From surprise guest appearances to record-breaking concerts, it's a place where legends are made and music history is written.
Unforgettable Sports Events
Aside from music, Bridgestone Arena has witnessed thrilling sports events. Hockey fans flock to the arena to watch the Nashville Predators in action, creating an electric atmosphere that's second to none.
Contribution to Nashville's Economy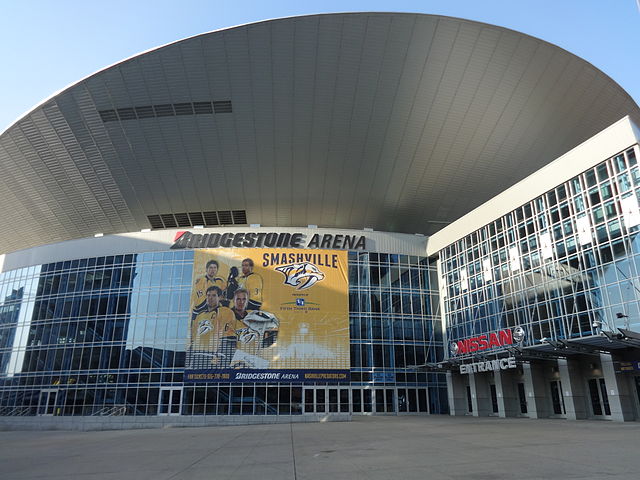 Credit to Michael Rivera via CC Attribution-Share Alike 4.0
The economic impact of Bridgestone Arena on Nashville is substantial. The venue attracts tourists, generates revenue for local businesses, and provides job opportunities, making it a vital component of the city's economy.
Bridgestone Arena's Role in Nashville's Identity
Bridgestone Arena isn't just a building; it's a symbol of Nashville's cultural identity. It embodies the city's passion for both music and sports, making it an enduring source of pride for Nashvillians. It's a source of pride for Nashvillians and symbolizes the city's unique character.
Final Words
In the heart of Nashville, where country melodies echo through the streets, and the spirit of rock 'n' roll never sleeps, Bridgestone Arena stands tall as a symbol of the city's vibrant soul. It's not merely a venue; it's an experience, a testament to the enduring power of live entertainment. So, whether you're here for a Predators game or a sold-out concert, one thing is certain – Bridgestone Arena is where Nashville's heart beats loudest, and its legacy shines brightest. Click here to see what Bridgestone arena has prepared for your for their upcoming events.