Credit to WBLS via CC Attribution 3.0
Are you ready for the most wonderful time of the year? The Queen of Christmas herself, Mariah Carey, is here to make your holiday season truly magical. Brace yourselves, because she's gearing up for her first Detroit area arena concert since 2006, and it promises to be an unforgettable celebration of the holiday spirit.
The Queen of Christmas
For many, Mariah Carey is synonymous with the holiday season. The Grammy-winning diva, who has an illustrious career spanning decades, truly shines during the festive season. Her heartwarming melodies and soulful voice have made her the undisputed Queen of Christmas.
Mariah's enchanting rendition of "All I Want for Christmas Is You" has been the hallmark of holiday playlists worldwide for decades. This timeless hit first graced our ears in 1994, but it's as fresh and beloved today as it was back then. In a remarkable feat, the song resurged to the top of Billboard's Hot 100 singles chart in 2019, a remarkable 25 years after its initial release. Since then, it has made a triumphant return every year, maintaining its spot at No. 1 for a total of 12 weeks.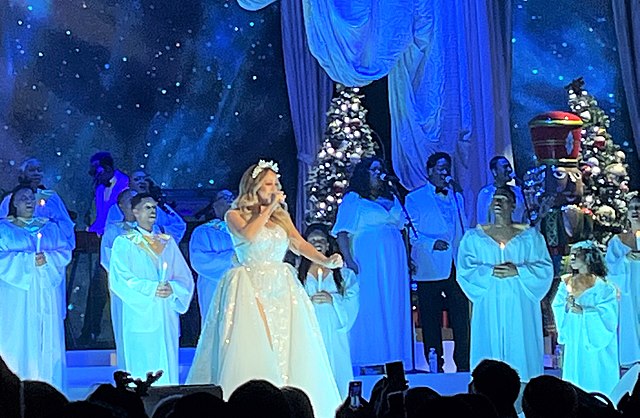 Credit to Heartfox via CC Attribution-Share Alike 4.0
This incredible achievement granted Mariah Carey her 19th No. 1 single. She stands second only to the legendary Beatles, who boasted 20 chart-toppers during their iconic career. Mariah's impact on the holiday season is amazing, and her upcoming holiday concert in Detroit is poised to be an epic celebration of this musical legacy.
Merry Christmas One and All! Tour
Mariah Carey's Detroit Christmas is the diva's "Merry Christmas One and All!" tour. It is the ultimate gift to her fans, and it's set to captivate audiences across the nation. Starting on November 15 in Highland, California, and ending on December 17 in the heart of New York City, this 13-date tour will be a journey through the wonder of the holidays.
But there's a special date that's set to light up Detroit's holiday season. On December 1, at the iconic Little Caesars Arena, Mariah Carey will grace the stage with her unparalleled vocal prowess, captivating presence, and, of course, her classic holiday hits. It's a night you won't want to miss!
A Special Return to Detroit
Mariah Carey's upcoming performance at the Little Caesars Arena will mark her first Metro Detroit arena concert in over a decade. Her last performance in the Detroit area was back in September 2006, at the Palace of Auburn Hills. A planned show in April 2017, alongside Lionel Richie, was regrettably canceled due to Richie's recovery from knee surgery.
However, she made a triumphant return to Detroit in March 2019, gracing the stage of the Fox Theatre as part of her Caution World Tour. Still, "All I Want for Christmas Is You" remained a hidden gem, yet to be unveiled.
Get Ready to Celebrate
As the holiday season approaches, there's no better way to usher it in than with Mariah Carey's "Merry Christmas One and All!" tour. Her live performances are mesmerizing, and this holiday extravaganza is guaranteed to be a night of joy, nostalgia, and timeless music.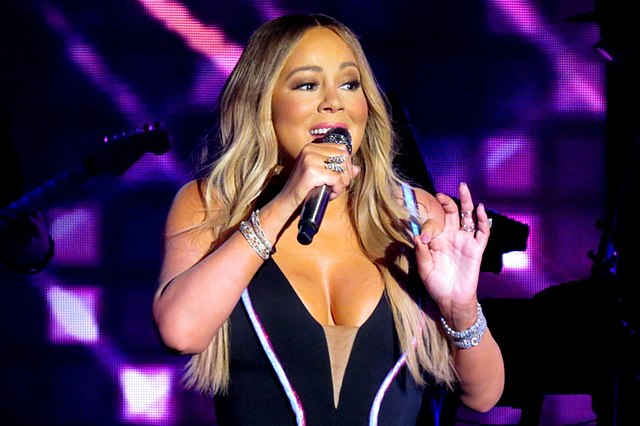 Credit to Filipe Vicente / Setor VIP via CC Attribution 2.5
Presales for this extraordinary event start at 10 a.m. on Wednesday for American Express cardholders. For the general public, tickets will be available via Ticketmaster starting at 10 a.m. on Friday. 
Don't miss the chance to celebrate the holidays with Mariah Carey, the Queen of Christmas herself, and experience the magic of her greatest hit, "All I Want for Christmas Is You," live on stage. Make sure to secure your spot at this unforgettable holiday concert and create lasting memories with your loved ones. It's time to get into the holiday spirit!
Tour Dates
Mark your calendars and prepare for a night filled with holiday cheer and classic hits. Mariah Carey's "Merry Christmas One and All!" tour will take you on a journey through the most magical time of the year, stopping in several cities across the United States:
November 15: Highland, California (Yaamava Casino)
November 17: Los Angeles, California (Hollywood Bowl)
November 21: Denver, Colorado (Ball Arena)
November 24: Kansas City, Missouri (T-Mobile Arena)
November 27: Toronto, Ontario (Scotiabank Arena)
November 29: Montreal, Quebec (Centre Bell)
December 1: Detroit, Michigan (Little Caesars Arena)
December 3: Chicago, Illinois (United Center)
December 5: Pittsburgh, Pennsylvania (PPG Paints Arena)
December 11: Boston, Massachusetts (TD Garden)
December 13: Philadelphia, Pennsylvania (Wells Fargo Center)
December 15: Baltimore, Maryland (CFG Bank Arena)
December 17: New York, New York (Madison Square Garden)
The holiday season is fast approaching, and Mariah Carey's "Merry Christmas One and All!" tour is the perfect way to kickstart your celebrations. Get ready for an evening filled with timeless classics, heartwarming melodies, and the undeniable charm of the Queen of Christmas herself. This is a chance to experience the magic of her greatest hit, "All I Want for Christmas Is You," live on stage and make memories that will last a lifetime.
Secure your spot for Mariah Carey's Detroit Christmas concert. As her enchanting voice fills the Little Caesars Arena on December 1, it's time to immerse yourself in the true spirit of Christmas. Let Mariah Carey make your holiday season unforgettable with her exceptional performance and timeless hits. It's an event you won't want to miss, so get your tickets and be part of the holiday magic!
Related Articles: