Credit to Raph_PH via CC Attribution 2.0
Mariah Carey, a name synonymous with vocal prowess and chart-topping hits, has left an indelible mark on the music industry. From her humble beginnings to becoming one of the best-selling artists of all time, Carey's journey is an inspiring tale of talent, resilience, and unwavering determination. Let's delve into the fascinating story of how Mariah Carey rose to stardom, her struggles along the way, her iconic songs and albums, memorable concerts, and her enduring legacy.
Early Beginnings and Discovery
Born on March 27, 1969, in Huntington, New York, Mariah Carey showed an extraordinary talent for singing from a young age. Her passion for music led her to pursue a career in the industry, and at the age of 18, she moved to New York City to chase her dreams. It was there that fate intervened when she handed her demo tape to Tommy Mottola, the head of Columbia Records. Impressed by her incredible vocal range and undeniable talent, Mottola immediately signed her to the label.
Struggles and Breakthrough
While Mariah Carey's talent was undeniable, her early years in the music industry were full of hardships and challenges. Her self-titled debut album, released in 1990, showcased her exceptional vocal abilities, but it faced initial skepticism. However, it was the release of her second album, "Emotions" in 1991, that truly solidified her status as a rising star. The title track became her fifth consecutive number-one single, cementing her place in music history.
Throughout her career, Mariah Carey has been open about her struggles, both personal and professional. She faced criticism and scrutiny, often being compared to her peers. However, she persevered and continued to push the boundaries of her artistry, ultimately proving her ability to craft timeless music that resonated with audiences worldwide.
Hit Songs, Albums, and Concerts
Mariah Carey's discography boasts an impressive array of chart-topping hits and critically acclaimed albums. Some of her most memorable songs include "Vision of Love," "Hero," "We Belong Together," "Fantasy," and "Always Be My Baby." These timeless classics showcase her incredible vocal range, melodic sensibility, and emotive performances.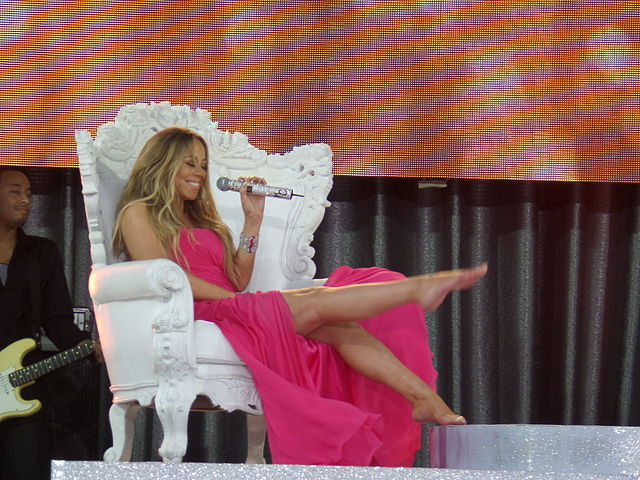 Credit to SKS2K6 via CC Attribution-Share Alike 3.0
Throughout her career, Carey has released numerous successful albums, including "Music Box" (1993), "Daydream" (1995), "The Emancipation of Mimi" (2005), and "Caution" (2018). These albums not only garnered commercial success but also garnered critical acclaim, solidifying Carey as a true musical icon.
In terms of concerts, Mariah Carey's live performances are legendary. She has graced some of the most prestigious stages around the world, captivating audiences with her extraordinary vocal abilities and charismatic stage presence. Some notable concerts in the United States include her historic MTV Unplugged performance in 1992, her iconic residency show "The Butterfly Returns" in Las Vegas, and her annual holiday concert series "All I Want for Christmas Is You" at the Beacon Theatre in New York City.
Memorable Collaborations and Influences
Throughout her career, Mariah Carey has collaborated with some of the biggest names in the music industry. From duets with Whitney Houston ("When You Believe") to R&B collaborations with Boyz II Men ("One Sweet Day") and Jay-Z ("Heartbreaker"), Carey's ability to seamlessly blend genres and showcase her versatility has contributed to her enduring success. Moreover, her vocal style and melismatic singing technique have influenced a generation of artists, leaving an indelible mark on the contemporary music landscape.
Impact on Popular Culture and Influential Moments
The iconic singer's influence on popular culture extends far beyond her music. Her popular Christmas song, "All I Want for Christmas Is You," has become a holiday staple and an evergreen classic. The song's continued popularity and yearly resurgence on the charts have solidified Carey's status as the "Queen of Christmas." Additionally, her memorable appearances in films such as "Precious" (2009) and "The Butler" (2013) have showcased her acting abilities and further cemented her cultural impact.
Enduring Legacy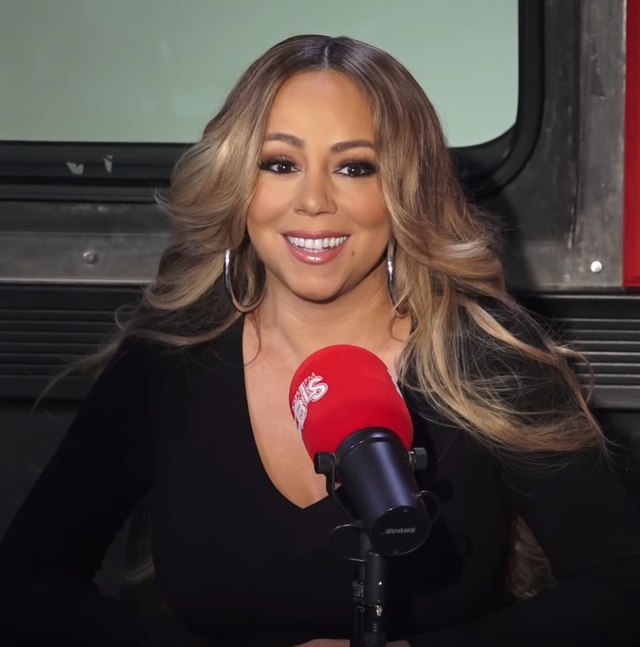 Credit to WBLS via CC Attribution 3.0
Mariah Carey's impact on popular music cannot be overelaborated. She has set numerous records, including the most number-one singles by a solo artist on the Billboard Hot 100 chart. Her vocal range, spanning five octaves, has been an inspiration for aspiring singers across the globe. Additionally, Carey's ability to infuse emotion and vulnerability into her songs has resonated with fans and established her as a relatable and influential figure in the industry.
Beyond her musical accomplishments, Mariah Carey has been an advocate for various philanthropic causes. She has lent her support to organizations such as the Fresh Air Fund, the Make-A-Wish Foundation, and the Elton John AIDS Foundation, using her platform to make a positive impact in the world.
Conclusion
From a young girl with a dream to a global superstar, Mariah Carey's journey is a demonstration of her undeniable talent, unwavering determination, and resilience in the face of challenges. Her hit songs, critically acclaimed albums, and unforgettable concerts have left an indelible mark on the music industry. As her enduring legacy continues to inspire generations of artists, Mariah Carey stands as a true icon and an emblem of success. Her remarkable career is a shining example of what can be achieved with passion, perseverance, and an unwavering dedication to one's craft.