Credit to Carolin von Petzholdt via CC Attribution 3.0
In a world where music transcends borders and cultures, where the rhythm of life is set to the beat of passion and innovation, one question echoes: How did seven young men from South Korea manage to transform the American music landscape and become the very embodiment of a global phenomenon? How did BTS, South Korea's biggest export, metamorphose into an unstoppable force that America and the world can't get enough of?
The story of BTS fever is a tale of determination, talent, and a sprinkle of magic. With their irresistibly catchy tunes, mesmerizing choreography, and heartwarming authenticity, these seven artists have shattered records, toppled charts, and captured the hearts of millions. Let's embark on a voyage through their remarkable journey from South Korea's streets to becoming the undisputed rulers of American music and beyond.
What is BTS?
BTS stands for "Bangtan Sonyeondan," which translates to "Bulletproof Boy Scouts" in English. It is a South Korean music group known as a "K-pop" group. BTS consists of seven members, and they primarily focus on singing and dancing as part of their music and performance, but they are not a traditional band with instruments. Instead, they are often referred to as a boy band or K-pop group. This group's seven young, good-looking boys are RM, Jin, Suga, J-Hope, Jimin, V, and Jungkook.
The K-Pop Revolution in the USA
The story of BTS' meteoric rise in America begins with the broader K-Pop revolution. K-Pop, a genre that combines infectious melodies, impressive choreography, and visually stunning music videos, has been slowly gaining traction in the U.S. for years. However, BTS fever emerged as the undeniable frontrunners, captivating American audiences with their unique blend of talent, authenticity, and relatability.
BTS achieved several Billboard Hot 100 chart-toppers, with hits like "Dynamite" and "Butter." Their albums, including "Map of the Soul: 7" and "BE," smashed sales records. In 2021, they made history as the first Asian act to win the Grammy Award for Best Pop Duo/Group Performance. Their ability to blend pop, hip-hop, and EDM influences into their music has captivated a diverse American audience, making them trailblazers in the K-Pop revolution.
BTS: The Pioneers of K-Pop
While BTS' success is undeniable, they didn't achieve it without facing competition. Other K-Pop groups like BLACKPINK and EXO have also made waves in the U.S. music scene. However, BTS' early investment in social media and their active engagement with fans through platforms like Twitter and V LIVE set them apart. Their sincere storytelling through music, delving into topics like mental health and self-love, deeply struck a chord with their global ARMY (Adorable Representative M.C. for Youth) fanbase.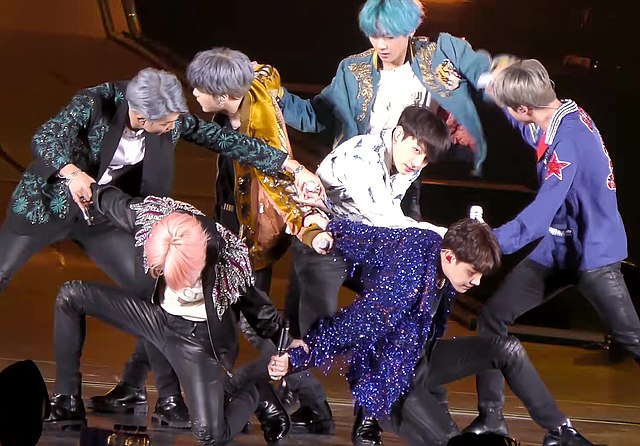 Credit to I DARE U JK via CC Attribution 3.0
BTS' groundbreaking 2019 album, "Map of the Soul: Persona," debuted at number one on the Billboard 200 chart, affirming their status as K-Pop pioneers. Their ability to adapt and evolve musically, exploring diverse genres while maintaining their signature style, has allowed them to stay ahead of the curve in a competitive industry.
The Power of Social Media and Fandom
BTS' relationship with their fans, known as the ARMY, is a key driver of their success. The group's consistent presence on social media platforms like Twitter and their involvement in fan interactions through live broadcasts have forged a deeply personal connection with their followers. This level of engagement has not only created their fanbase but also amplified their reach.
BTS' ARMY is a global force to be reckoned with. They've not only supported the group's music but also engaged in philanthropy, charitable initiatives, and fandom-driven projects. This dedication has helped BTS fever maintain their popularity and influence in the American music scene.
Breaking Language Barriers
One of the most remarkable aspects of BTS' journey is their ability to break language barriers. While they primarily sing in Korean, their music transcends linguistic boundaries. They've made deliberate efforts to connect with international fans through subtitles, English interviews, and English-language tracks, allowing their music to resonate with listeners worldwide.
Their song "Dynamite," released entirely in English, became a massive hit, reaching number one on the Billboard Hot 100 chart. This achievement was historic, highlighting BTS as a global phenomenon with universal appeal.
A Message of Positivity and Inclusivity
The group's music frequently conveys messages of positivity, self-acceptance, and inclusivity. Their active support for social causes, such as the "Love Myself" campaign with UNICEF, has established them as socially responsible artists. This dedication to improving the world has earned them the admiration of fans and recognition from international organizations.
BTS' authenticity and willingness to address important topics in their music and public statements have made them relatable role models for their fans, especially at a time when social issues are at the forefront of global conversations.
BTS and Cultural Exchange
Beyond music, BTS has played a significant role in cultural exchange between South Korea and the United States. Their appearances on American talk shows, collaborations with American artists like Halsey and Coldplay, and performances at major U.S. events have bridged the gap between two very different cultures.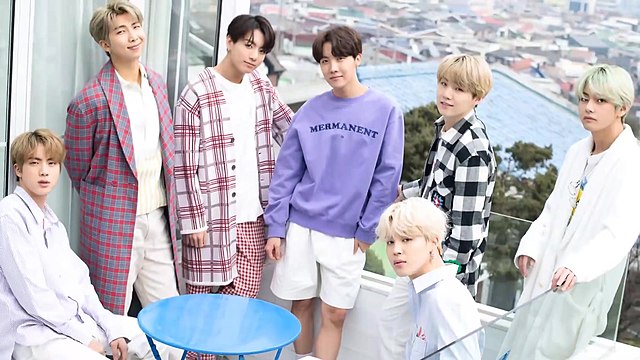 Credit to Dispatch via CC Attribution 3.0
Their historic speech at the United Nations General Assembly in 2018, where they addressed the importance of self-love and self-acceptance, highlighted their role as cultural ambassadors.
The Impact of the Pandemic
Even during the global pandemic, BTS fever found innovative ways to connect with fans. Their online concerts, such as "BANG BANG CON" and "Permission to Dance on Stage," allowed them to maintain their connection with the ARMY while adhering to social distancing measures. These virtual performances reached millions of fans worldwide and showcased their adaptability in the face of adversity.
BTS' Accomplishments and Awards
BTS' collection of awards and accolades is truly remarkable. They've won numerous awards, including the American Music Awards, Billboard Music Awards, and MTV Video Music Awards. Their groundbreaking achievements include being the first K-Pop group to top the Billboard 200 chart with "Love Yourself: Tear" and setting a new YouTube record for the most-viewed video in 24 hours with "Dynamite." These accolades have showcased their status as a global music phenomenon.
What Lies Ahead for BTS in the USA
As BTS continues to evolve and expand their artistic horizons, their future in America remains bright. Their undeniable talent, unwavering work ethic, and dedication to their fans ensure that they will remain America's obsession for years to come. The BTS fever shows no signs of cooling down, and the world eagerly awaits what the global phenomenon will conquer next.
Final Thoughts
The journey of BTS on the American music scene is undeniable; it's a powerful force shaping the future of the entertainment industry. As the group continues to inspire and break new ground, the world eagerly watches their journey unfold. BTS' journey from South Korea to becoming America's obsession reflects their talent, dedication, and the extraordinary power of music to transcend borders.
Related Articles: