Credit to Somno via CC Attribution-Share Alike 4.0
In the ever-changing landscape of the music industry, few bands are able to create a legacy that lasts for at least ten years. One such luminary is OneRepublic, a group that has consistently delivered hits across generations. As we celebrate their musical journey, let's take a captivating stroll through their history as a band, career milestones, iconic songs, albums that became anthems, mesmerizing concerts, well-deserved accolades, and their exciting future plans. 
The Genesis of a Musical Odyssey
OneRepublic's journey began in 2002 when Ryan Tedder, the lead vocalist and multi-talented songwriter, started the band in Colorado. The roots of their formation trace back to Tedder's passion for music and his desire to create something extraordinary. This vision led him to gather a group of fellow musicians who shared his enthusiasm. Thus, OneRepublic was born, emerging as a collective of artists with a shared dream of having a lasting impression on the music industry.
The Collaborative Talents
OneRepublic's musical brilliance is a fusion of its dedicated members' distinct talents. Lead vocalist and songwriter, Ryan Tedder, fronts the band with his emotive voice and poignant lyrics, forming the emotional core of their music. Guitarist Wayne Sermon adds electrifying riffs that infuse their sound with rock sensibilities, while bassist Ben McKee and drummer Daniel Platzman provide the rhythmic backbone that propels their tracks forward. Beyond their instrumental roles, McKee and Platzman add harmonies that improve the band's overall sound, creating an impactful musical force. Together, these individuals form a collaborative unit that has crafted the anthems that have defined OneRepublic's enduring legacy.
From Basement Jams to Global Recognition
From their inception, OneRepublic's path to success was far from linear. The band started by rehearsing and recording in a basement, honing their craft and forging a unique sound that blended various influences. While they initially faced challenges in gaining traction, their persistence paid off when they attracted the attention of Timbaland, a renowned producer. This pivotal collaboration resulted in the reimagined version of "Apologize," a track that would propel them into the global spotlight and serve as a defining moment in their career.
Facing Challenges and Rising Above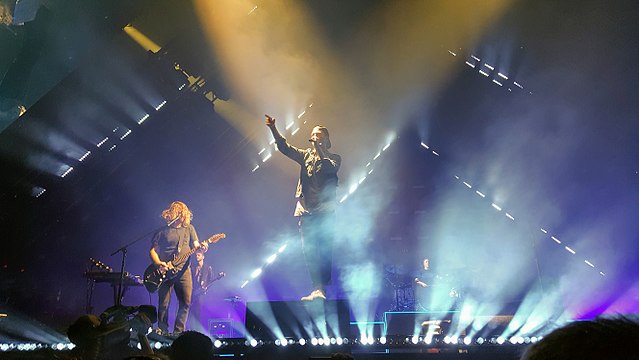 Credit to Keenman76 via CC Attribution-Share Alike 4.0
However, the road to stardom was not without its hurdles. OneRepublic's journey was punctuated by struggles and setbacks. Despite their undeniable talent, the band faced rejections from multiple record labels. These moments of adversity could have deterred them, but instead, they fueled their determination. The challenges they encountered only served to strengthen their resolve, shaping them into the resilient and tenacious artists they are today.
Navigating Rivalries: OneRepublic's Path to Stardom
OneRepublic encountered rivals who shared their genre and fan base, including notable bands like Coldplay and Maroon 5. Coldplay's ethereal and introspective melodies, as well as Maroon 5's pop-infused hooks, presented formidable competition. However, OneRepublic's response to these rivalries exemplified their resilience and adaptability. They embraced their rivals' unique traits, extracting inspiration from Coldplay's atmospheric soundscapes and Maroon 5's catchy pop sensibilities. Yet, rather than emulating, OneRepublic deftly infused these influences into their own style, creating a distinctive blend of heartfelt lyricism and genre-defying melodies.
Hits That Resonate
OneRepublic has flooded the music business with successes over the past ten years, leaving a lasting impression. Tracks like "Counting Stars," "Good Life," "Secrets," and "If I Lose Myself" have transcended charts to become anthems of life's highs and lows. "Counting Stars," for instance, was more than just a song; it was a rallying cry that resonated with dreamers around the world, setting an inspirational tone for a generation.
Albums: Building a Sonic Legacy
OneRepublic's discography reads like a diary of musical evolution. From their debut album "Dreaming Out Loud" to the experimental journey of "Oh My My," each release showcases their growth as artists. With each album, they've explored new dimensions while staying true to their core essence. "Native," their third album, was a testament to their evolving artistry, featuring a diverse range of tracks that proved their genre-defying prowess.
Epic Concerts: Captivating Audiences Worldwide
Witnessing OneRepublic in concert is a journey into the heart of their musical universe. Their performances are electrifying spectacles that effortlessly capture the essence of their hits. The synergy between Tedder's emotive delivery, the band's instrumental prowess, and the audience's fervor creates an atmosphere that's nothing short of magical. The band's performance at the iconic Red Rocks Amphitheatre was a pinnacle moment, enhancing their status as a live act that audiences just cannot miss.
Recognition and Acclaim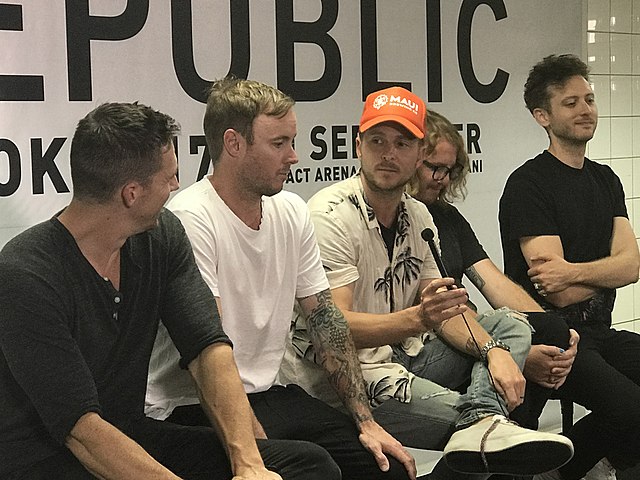 Credit to Sry85 via CCAttribution-Share Alike 4.0
OneRepublic's talent has been recognized with a plethora of awards and nominations. Both fans and critics have found their music to be compelling, leading to Grammy nominations, Billboard Music Awards, and an American Music Award. These honors serve as more than just markers of achievement; they also serve as evidence of their enduring influence on the industry.
"Apologize" not only topped charts but also secured them a Grammy nomination, giving them their place among the industry's elite.
Gearing Up for New Album and Tour in 2024
Currently, OneRepublic is on their "Never Ending Summer Tour" in the United States. The tour began on July 29, 2023, and is scheduled to end on October 1, 2023. The band will be playing at various outdoor venues across the country. After the summer tour, OneRepublic plans to release their seventh studio album. The album is currently untitled and does not have a release date yet. However, the band has been teasing new music on social media, so it is likely that the album will be released in early 2024.
In addition to releasing new music, OneRepublic also plans to continue touring in support of their new album. They have already announced a European tour for the spring of 2024. It is likely that they will also tour in other parts of the world in the future. OneRepublic is in a good place right now. They are still making great music and they have a dedicated fan base. Are you excited to see what they do next.
Final Words
In the grand symphony of music, the melodies of OneRepublic are the notes that have woven themselves into the fabric of our lives. A decade of hits, albums, concerts, and awards is more than a career—it's a legacy that has enriched the world's musical tapestry. As we celebrate OneRepublic's journey, we're reminded of the enduring power of music to connect, uplift, and transcend time itself.
The soundtrack of our lives will continue as the band promises the next chapter of their legacy – a new album and tour in 2024.