Credit to crommelincklars via CC Attribution 2.0
Born on December 18, 2001, Billie Eilish Pirate Baird O'Connell has become a dominant force in the American music scene as a singer-songwriter. She burst onto the scene in 2015 with her debut single, "Ocean Eyes," a collaboration with her brother Finneas O'Connell, and has since achieved remarkable success.
In 2017, Eilish released her debut EP, "Don't Smile at Me," which quickly climbed the charts in various countries, including the US, UK, Canada, and Australia.
Her breakthrough came with her first studio album, "When We All Fall Asleep, Where Do We Go?" in 2019. This album debuted at the top of the US Billboard 200 and the UK Albums Chart. Its hit single, "Bad Guy," made her the first artist born in the 21st century to top the US Billboard Hot 100.
In 2020, Eilish contributed the theme song "No Time to Die" to the James Bond film of the same name, earning her an Academy Award. Her subsequent singles, such as "Everything I Wanted," "My Future," "Therefore I Am," and "Your Power," all achieved top 10 positions in the US and UK charts.
In 2021, she released her second studio album, "Happier Than Ever," which also dominated charts worldwide. Additionally, her single "What Was I Made For?" for the 2023 Barbie soundtrack became another UK number-one hit.
Eilish's achievements extend beyond music. She has won numerous awards, including seven Grammy Awards. She's known for her activism, advocating for climate change awareness, body positivity, women's reproductive rights, and gender equality.
Early Years of Billie Eilish
Billie Eilish Pirate Baird O'Connell was born to parents Maggie Baird and Patrick O'Connell, who are both involved in music. She has Irish and Scottish ancestry and was conceived through in vitro fertilization.
Raised in Los Angeles' Highland Park neighborhood, Billie and her brother Finneas were homeschooled by their parents, allowing them to pursue their interests freely. Their mother, Maggie, taught them songwriting basics, igniting Billie's passion for music. Both her mother and brother played a significant role in inspiring her musical journey.
Versatile Talents
The O'Connell family encouraged creativity in various forms, from art to dance and acting. Billie even joined the Los Angeles Children's Chorus and started playing the ukulele at a young age.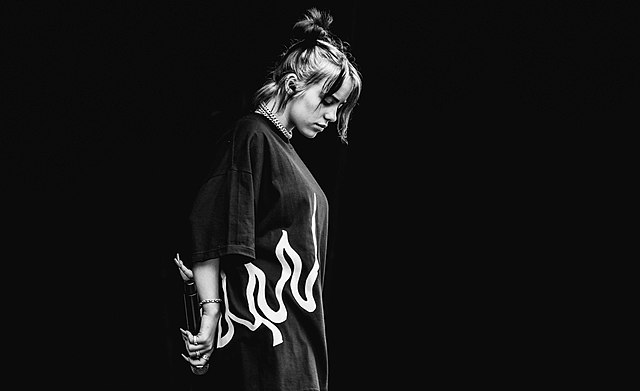 Credit to crommelincklars via CC Attribution 2.0
She wrote her first song at 11, inspired by "The Walking Dead," giving way to her early songwriting skills.
While Billie briefly explored acting, her true calling was music, ultimately leading her to a flourishing career. In 2016, she pursued dancing but redirected her focus to music due to her injury.
Musical style, songwriting, and music videos
Billie Eilish is a musical sensation known for her distinctive soprano vocal range, which has been described as "ethereal" and "whispery." Critics have also praised her ability to adapt her voice, from "husky" and "slurring" to "reedy."
Her music defies easy classification, straddling various genres, including pop, dark pop, electropop, emo pop, experimental pop, goth-pop, indie pop, teen pop, and alt-pop.
Collaboration is at the heart of Eilish's musical journey, with her brother, Finneas, playing a pivotal role. Finneas not only writes for Billie but also produces her music and joins her on stage during live performances.
Together, they craft songs that often blend fiction and reality, aiming for lyrics that are both engaging and thought-provoking.
Eilish's creative talents extend to directing her own music videos, a dream she realized with the release of the "Xanny" video in 2019.
Influences
In terms of musical influences, Billie Eilish's eclectic taste spans the Beatles, Justin Bieber, Green Day, Arctic Monkeys, Linkin Park, and Lana Del Rey. Hip-hop holds a special place in her heart, serving as a major source of inspiration.
Matty Healy of The 1975 played a pivotal role in her early development as an artist, and she's also drawn inspiration from artists like Tyler, the Creator, Childish Gambino, Avril Lavigne, Adele, Earl Sweatshirt, James Blake, Amy Winehouse, the Spice Girls, and more.
Eilish's style and music have led to comparisons with Avril Lavigne, Lorde, and Lana Del Rey, although she has expressed a desire not to be compared to the latter. She also credited Ariana Grande's album "Thank U, Next" for inspiring her continued musical journey.
Redefining Fashion with Confidence
Billie Eilish is also an equally influential icon in the world of fashion. Her trademark style features baggy, oversized clothing, a deliberate choice to stand out and challenge norms.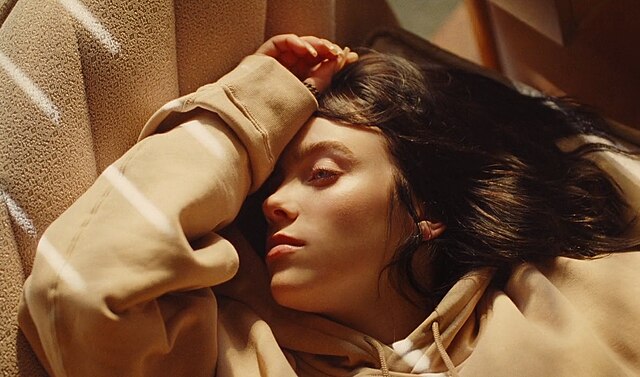 Credit to Alfred Marroquin via CC Attribution 3.0
In 2019, Eilish explained that she uses fashion to shield herself from body judgments. She addressed body shaming in a poignant short film called "Not My Responsibility" during a Miami live show in 2020, later shared on her YouTube channel.
Eilish's fashion journey took a surprising turn when she graced the cover of British Vogue in June 2021, wearing lingerie and corsets. This bold move challenged perceptions and showcased her versatility.
Final Words
In a world where music meets fearless fashion, Billie Eilish stands as an emblem of empowerment. Her unique voice, both melodically and sartorially, challenges norms and inspires us to embrace our individuality with unwavering confidence.
With Grammy wins and bold fashion statements, she's a trailblazer redefining the boundaries of both sound and style. Billie Eilish is not just an artist; she's an icon of authenticity in music, an advocate for important causes, and a pioneer in the world of fashion. Her journey reminds us that true talent knows no bounds and that daring to be different can lead to greatness.
Related Articles: