Credit Georgebre via CC Attribution-Share Alike 4.0
Have you ever pondered who reigns supreme in the TikTok realm, setting the stage on fire and dominating the soundtrack of our lives with infectious beats and viral trends? Look no further than Doja Cat. In an era where social media platforms like TikTok have become the epicenter of music discovery and trends, Doja Cat has emerged as a reigning monarch. 
With millions of followers and an array of chart-topping hits, she's more than just a pop star – she's a cultural phenomenon. Let's discover the fascinating world of Doja Cat and see how she's conquering TikTok one trend at a time.
The TikTok Sensation
Doja Cat's meteoric rise can be attributed to her uncanny ability to create music that perfectly complements TikTok's short-form video format. Her tracks, filled with catchy hooks and infectious melodies, have become the backdrop for countless viral videos and challenges. From "Say So" to "Kiss Me More," each release seems tailor-made for TikTok, and users have responded enthusiastically, catapulting her to the top of the TikTok charts.
A Master of Viral Challenges
One of the keys to Doja Cat's TikTok success lies in her active participation in viral challenges. She doesn't just create music for TikTok; she actively engages with the platform's trends.
Whether it's dancing to her own songs or collaborating with TikTok influencers, she keeps the momentum going and ensures her songs stay at the forefront of users' minds.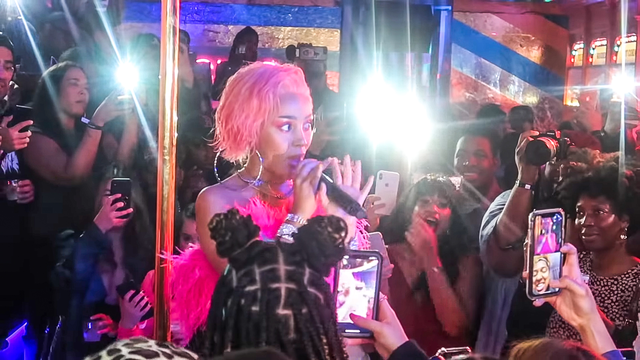 Credit to LavishRuby via CC Attribution 3.0
The Versatile Performer 
Doja Cat's versatility as an artist is another factor contributing to her TikTok reign. Her ability to seamlessly blend genres, from pop to rap to R&B, allows her to appeal to a wide audience on the platform. She can switch from delivering rap verses to delivering soulful choruses effortlessly, making her music adaptable to various TikTok trends and themes.
Doja Cat vs. TikTok Competitors
While Doja Cat shines brightly on TikTok, she faces stiff competition from fellow artists like Megan Thee Stallion, Billie Eilish, and Lil Nas X. These artists also have a significant presence on the platform and consistently churn out TikTok-friendly content. The battle for the TikTok crown is fierce, and Doja Cat navigates it skillfully, constantly innovating and staying relevant.
Leveraging User-Generated Content
Doja Cat understands the power of user-generated content on TikTok. She actively encourages her fans to create their own videos using her music, which not only boosts her engagement but also keeps her songs circulating in the TikTok ecosystem. Her songs become anthems for creative expression, fostering a sense of community among her fans.
Building a Loyal TikTok Following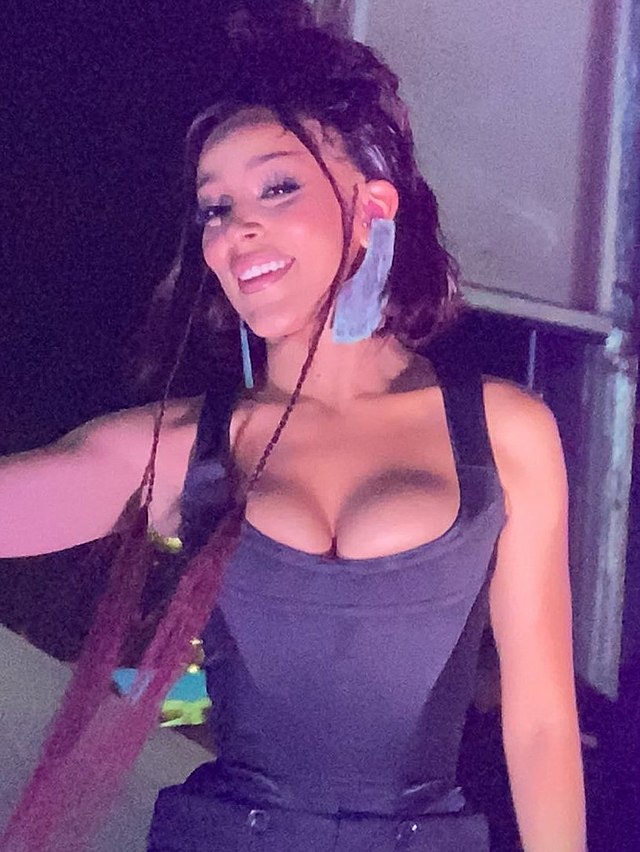 Credit to Naz (@dojaclouds) via CC Attribution-Share Alike 4.0
Beyond her musical talents, Doja Cat's authentic and relatable personality resonates with TikTok users. She shares glimpses of her life, behind-the-scenes moments, and humorous takes on trending topics. This transparency has helped her build a loyal following that eagerly awaits her TikTok updates.
The Impact on Her Career
TikTok Queen Doja Cat dominance hasn't just made her a sensation on the platform; it has also translated into tangible success in the music industry. Her songs consistently top charts and receive widespread radio play. The TikTok audience has become an integral part of her fanbase, propelling her to superstardom.
Doja Cat's Fall 2023 "Scarlet Tour"
In a dazzling announcement, this multi-talented Grammy Award-winning artist and fashion icon, is gearing up for her highly anticipated North American tour in the fall of 2023. Joining her on selected dates of the 24-stop journey will be the sensational summer anthem creator, Ice Spice, and the promising emerging rapper, Doechii.
This mesmerizing "Scarlet Tour" is slated to kick off on the enchanting night of Halloween in San Francisco and will continue its captivating journey until December 13, concluding with a grand finale performance in the vibrant city of Chicago. Along the way, the tour will grace the stages of most major U.S. cities, making it an unmissable event for fans across the nation, with a special stop in Toronto, Canada.
This thrilling tour announcement comes on the heels of Doja Cat's recent release, a scorching rap track titled "Attention." In this fiery song, she skillfully navigates the intricacies of her relationship with the online commentary, resonating with both her devoted fanbase and discerning critics.
The Future of Doja Cat on TikTok
As Doja Cat continues to conquer TikTok and the music industry, the future looks bright. Her ability to create music that resonates with TikTok trends and her active engagement with the platform ensure she remains a formidable force. Whether she's setting the next viral trend or collaborating with other TikTok stars, Doja Cat is here to stay.
Takeaway
In the ever-evolving landscape of TikTok, Doja Cat has proven herself as the reigning TikTok Queen. Her ability to create TikTok-friendly music, participate in viral challenges, and engage with her audience sets her apart. While competition is fierce, Doja Cat's versatile talents and commitment to the platform make her a music industry icon and a true TikTok sensation.
As TikTok Queen Doja Cat continues to dominate the soundtrack of our lives, one can only wonder what she has in store for the future of TikTok and the music world. Plus, don't miss her Fall 2023 North American tour, the Scarlet Tour, where she'll dazzle audiences alongside Ice Spice and Doechii. Stay tuned for more infectious beats, viral challenges, and unforgettable moments from Doja Cat on TikTok and on stage.