Credit to Toglenn via CCBY 4.0
Who is Bad Bunny, really? In a music industry filled with larger-than-life personas, Bad Bunny has emerged as an enigmatic figure who defies convention at every turn. From his ever-present sunglasses and eccentric fashion sense to his genre-blurring music, Bad Bunny has captured the world's attention.  
What defines Bad Bunny?
Who is the man behind the shades? Bad Bunny, whose real name is Benito Antonio Martinez Ocasio, is a Puerto Rican artist who has skyrocketed to global stardom in the music industry. His exceptional rise can be attributed to his unique blend of reggaeton, Latin trap, and a fearless exploration of various music genres.
What sets him apart is not just his distinctive musical style but also his enigmatic persona. Bad Bunny is known for his eccentric fashion sense, ever-present sunglasses, and his unyielding commitment to authenticity, both in his music and his public image. His music, commitment to activism, and authentic approach to self-expression have positioned him as a pioneering force in the realm of modern music.
Ascension in the Music World
Bad Bunny burst onto the music scene with his 2017 single "Soy Peor" and quickly gained recognition for his unique style, blending reggaeton and Latin trap. As he gained popularity, he faced competition from artists like J Balvin and Ozuna, but his distinct sound and authentic persona set him apart.
The Authentic Rebel
His music defies traditional boundaries, breaking the mold in Latin music. He challenges the norms of Latin music by incorporating elements of hip-hop, R&B, and even rock into his work. His fearless approach has resonated with a diverse audience, making him a trailblazer in the genre. Competitors may have tried to emulate his style, but they cannot replicate the authenticity that Bad Bunny brings to every track.
Awards Galore
Across time, Bad Bunny has accumulated a remarkable array of awards, reflecting his position as a formidable force within the music industry. His hit single "Vete" won the Latin Grammy Award for Best Urban Song in 2020, while his album "YHLQMDLG" took home the Latin Grammy Award for Best Urban Music Album the same year. Such accolades not only highlight his talent but also underscore his dedication to making music that reflects with audiences worldwide. 
The Many Faces of Bad Bunny
What defines Bad Bunny's authenticity is his remarkable capacity to seamlessly transition from a reggaeton sensation to an artist with punk-rock influences while staying grounded in his roots.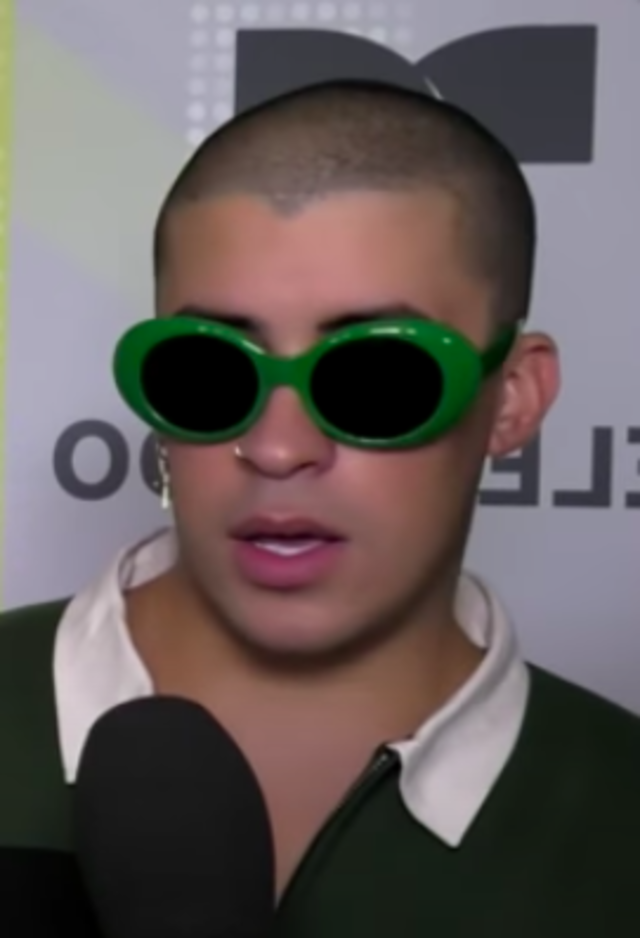 Credit to LAREMIX.TV via CC BY 3.0
His ever-shifting fashion preferences, daring hair color choices, and defiant demeanor serve as clear manifestations of his sincere dedication to self-expression, positioning him as a trailblazing trendsetter not only in music but also in the realm of style.
Hit Songs that Redefine Latin Music
Bad Bunny's discography is a treasure trove of hit songs that have reshaped the Latin music landscape. Tracks like "Dákiti" with Jhay Cortez and "Te Boté" with Casper Magico and Nio Garcia have dominated charts and demonstrated his immense popularity. These songs have set new standards in the industry, inspiring both fans and fellow artists alike.
Collaborations and Alliances
Expanding on Bad Bunny's authenticity is his collaborative spirit, having joined forces with eminent figures in the music industry like Drake, Cardi B, and Rosalía. These partnerships have not only yielded chart-topping hits but have also served as a gateway for Latin artists to enter and excel in the global music panorama.
The Influence of His Authenticity on Emerging Artists
Bad Bunny's unapologetic approach to music and self-expression has inspired a new generation of artists to be themselves. His influence can be seen in artists like Anuel AA, Karol G, and Sech, who are also breaking boundaries and redefining Latin music.
Bad Bunny's Impact on Stage
Renowned for his legendary live performances, Bad Bunny delivers energetic shows that mirror his vibrant personality. His concerts stand as evidence to his authenticity, captivating audiences with his charisma and raw talent, leaving them in awe. Esteemed artists such as Maluma and Daddy Yankee have lauded his stage presence and acknowledged the profound impact he has made on the live music experience.
Staying True to Himself
As Bad Bunny continues to evolve and expand his career, his authenticity remains a defining feature. Whether he's collaborating with global icons or advocating for social change, he's sure to keep pushing boundaries, challenging norms, and inspiring others to embrace their true selves.
To conclude, Bad Bunny's transformation from an up-and-coming talent to a worldwide sensation underscores the profound influence of authenticity in the music industry. His unwavering commitment to self-expression, coupled with his capacity to shatter conventions and attain remarkable success, serves as a wellspring of inspiration for aspiring artists and music enthusiasts on a global scale.
Hidden behind his distinctive shades, Bad Bunny's authenticity radiates brilliantly, and his undeniable influence on the music world is distinctive. As we chart his journey into the future,  Bad Bunny will continue to redefine the music landscape, leaving a lasting legacy on the global music scene.
Related Articles: