Credit: Justin Higuchi under CC BY 2.0
Tate McRae, the rising star of Canadian pop music, is currently riding a skyrocketing wave of success, and she's about to elevate her music to even greater heights. As anticipation builds for the release of her second album, 'Think Later,' on December 8, along with the announcement of her 2024 World Tour, it's clear that the world is in for a musical journey of epic proportions. To truly appreciate the astounding ride she's been on, let's explore the details of her album and upcoming world tour.
Tate McRae's New Album: 'Think Later'
Tate McRae's new album, 'Think Later,' is a highly anticipated release, set to drop on December 8, 2023. For fans, it's an electrifying moment, as they eagerly await to delve into McRae's latest musical journey. In an Instagram post, she poured her heart out about the album, expressing that it's a culmination of a rollercoaster year of emotions, creativity, and self-discovery. With a mix of stress, excitement, and introspection, 'Think Later' promises to be a genuine reflection of McRae's growth as an artist and as a person.
Embracing Raw Emotions
The album, as per a press release, will explore "the all-too-relatable feelings of falling in love and embracing the raw emotions that you experience as a result of leading with your intuition and heart." This insight hints at an emotional rollercoaster that listeners can expect from 'Think Later.' McRae's connection with her audience through her music has always been a hallmark and this album seems poised to strengthen that bond.
Collaboration with Ryan Tedder
Executive produced by the renowned Ryan Tedder, the man behind hits from artists like Adele and Beyoncé, 'Think Later' has all the makings of a chart-topping success. McRae and Tedder previously joined forces on the single "Greedy," which was a hint of the musical magic their collaboration could produce. With his expertise, the album is set to reach new heights, and fans can't wait to hear the musical genius they create together.
Tate McRae's World Tour: 2024
In addition to the album release, McRae's fans have yet another reason to celebrate – the 'Think Later' World Tour scheduled for 2024.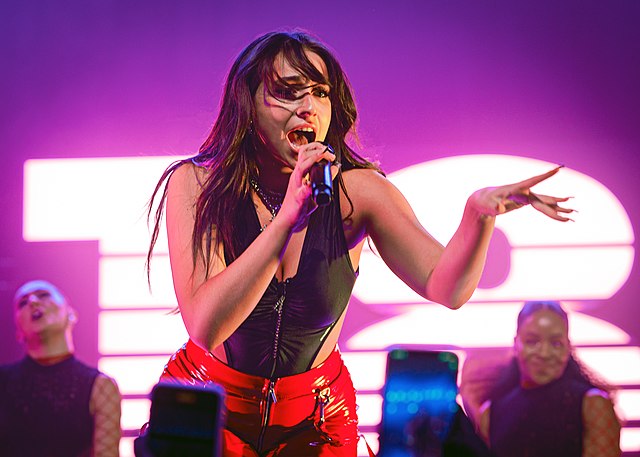 Credit: Justin Higuchi under CC BY 2.0
The tour is a global adventure that will kick off on April 17 in Ireland, making its way through Europe until May 22. For European fans, this is a golden opportunity to experience McRae's electrifying live performance.
North American Leg and Madison Square Garden
For fans in North America, the excitement peaks on July 5 when Tate McRae brings her music home to Calgary, Alberta, Canada, with the venue yet to be announced. The tour will continue across various cities, including Los Angeles, Toronto, Nashville, Houston, Philadelphia, and many more. The highlight of the North American leg? A performance at the iconic Madison Square Garden on August 22, promising a night to remember.
Global Finale in Australia and New Zealand
The final leg of the 'Think Later' tour will take McRae to seven shows in Australia and New Zealand in November 2024. For fans down under, this is a chance of a lifetime to witness Tate McRae's electrifying stage presence up close and personal.
Special Guests and Ticket Information
Tate McRae's fans can also look forward to special guests joining her on tour. Charlieonnafriday will be by her side in Europe, Australia, and New Zealand, while Presley Regier will accompany her in North America. The diversity and talent these artists bring will add layers of excitement to the already exhilarating tour.
General ticket sales for the tour are set to begin on November 10 at 10 a.m. local time for North America and Europe, and on November 14 at 3 p.m. local time for Australia and New Zealand. This is the moment where you can secure your spot in what promises to be an unforgettable experience.
Final Thoughts
In summary, Tate McRae's evolution from her debut album, 'I Used to Think I Could Fly,' to her eagerly anticipated sophomore release 'Think Later,' underscores her remarkable growth as an artist. With the imminent album launch and the exhilarating 2024 World Tour, she is on the cusp of leaving an enduring legacy in the music industry.
As fans eagerly count down the days, one can't help but ask: Are you prepared to be part of this extraordinary musical journey? Tate McRae's future is exceptionally bright, and it's a moment for the world to participate in her career success. Seize the opportunity and don't miss out on this electrifying experience!
Related Articles: