Credit: I DARE U JK under CC BY 3.0
Jung Kook of BTS has achieved a historic milestone on Spotify. On October 30, his solo track 'Seven (feat. Latto)' became the fastest song to reach an astounding 1 billion streams in Spotify's illustrious history
Who is Jung Kook
Jung Kook is a South Korean singer, songwriter, and a member of the internationally acclaimed boy band BTS (Bangtan Sonyeondan or Bulletproof Boy Scouts). Jung Kook, born on September 1, 1997, is often referred to as the "Golden Maknae" of BTS due to his versatility and proficiency in various skills, including singing, dancing, and songwriting. He has gained widespread recognition for his contributions to BTS's music and performances.
Jung Kook's Unstoppable Journey
Since embarking on his solo journey, Jung Kook has been a force to be reckoned with. His sensational hit, "Seven," featuring Latto, shattered records by reaching the billion-stream mark on Spotify in an astonishing 108 days. This achievement surpasses the previous record of 112 days held by Miley Cyrus' single "Flowers" in August.
"Seven" in Spotify's Billions Club
"Seven" now proudly joins Spotify's exclusive Billions Club playlist, alongside iconic tracks like Beyoncé's "Crazy In Love" feat. Jay-Z, Taylor Swift's "Style," and Harry Styles' "Falling."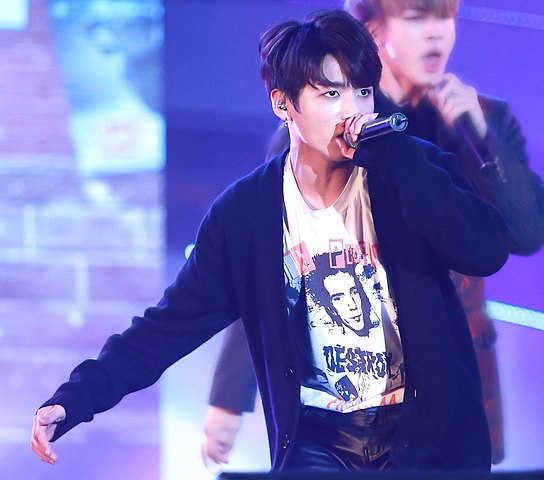 Credit: Heavenly Moment 97 under CC BY 4.0
Social Media Eruption: Spotify Announces the Milestone
Spotify shared this groundbreaking news on its social media platforms, declaring, "On October 30, Jung Kook's 'Seven (feat. Latto)' became the fastest song to reach 1 Billion streams in Spotify history."
No. 1 Hits and Global Recognition
This triumph follows the track's remarkable debut at No. 1 on the Billboard Hot 100 Chart and No. 3 on the Official U.K. Singles Chart in July 2023. Billboard noted it as "the highest-charting debut by a solo Korean act."
Additionally, "Seven" secured the top spot on both the Billboard Global 200 and Billboard Global Excl. U.S. charts, making Jung Kook the first BTS soloist to achieve this double feat.
Individual Brilliance During BTS Break
Despite BTS's temporary hiatus announced in 2022, individual members have continued to thrive in their solo pursuits. Jung Kook surprised fans with two remix releases: a David Guetta-mastered version of "Seven" feat. Latto and a remix of "3D" feat. Jack Harlow by MK.
Debut Solo Album "Golden"
As anticipation built for his debut solo album, 'Golden,' it was set to drop last Nov. 3. Jung Kook, known as the 'Golden Maknae' in Korean, is poised to captivate global audiences with his distinctive sound.
The album release is proof of HYBE's strategic focus on nurturing the solo careers of BTS members during the group's hiatus, showcasing their continued dominance in the music industry. Stay tuned for the golden wave set to sweep the charts!
Related Articles: