Credit: Morganwallen8020 via CC BY 3.0
The anticipation is building as the stage is set for the 2023 Billboard Music Awards, scheduled for Sunday, November 19, kicking off at 8 p.m. ET/5 p.m. PT. Music enthusiasts are in for a treat with a star-studded lineup that promises to deliver unforgettable performances and groundbreaking moments.
How to Watch
For those eager to catch the 2023 Billboard Music Awards, performances and awards will be broadcast across BBMAs and Billboard social channels. Additionally, viewers can tune in via BBMAs.watch, ensuring a seamless and immersive viewing experience. The excitement begins on Sunday, November 19, at 8 p.m. ET/5 p.m. PT.
Diverse Performances Tailored to Each Artist
Morgan Wallen's Home Run at Truist Park
Country sensation Morgan Wallen is set to perform "98 Braves" from the Braves' home field, Truist Park in Atlanta. This exclusive performance coincides with Wallen's sold-out U.S. tour, adding a personal touch to the event.
Mariah Carey's Festive Aspen-Inspired Extravaganza
The iconic Mariah Carey will grace the stage with a festive, Aspen-inspired performance of her holiday classic, "All I Want for Christmas Is You." Notably, this marks the first time the perennial favorite has been performed at an awards show. Renowned choreographer Debbie Allen will oversee the creative direction, promising a visually stunning sequence.
Peso Pluma and the Knockout Performance
Peso Pluma's rendition of "Rubicón" will feature a special guest appearance by boxing legend Mike Tyson, a self-declared Pluma superfan. This collaboration adds a unique and unexpected twist to the performance, making it a must-watch.
Tate McRae's BBMAs Debut
Tate McRae is set to make her BBMAs debut with a performance of her hit "greedy," currently making waves on the Billboard Hot 100. The performance, filmed at the new Moxy Hotel in downtown Los Angeles, promises to captivate audiences and showcase McRae's rising star power.
Global Hits with Bebe Rexha & David Guetta
Dynamic duo Bebe Rexha and David Guetta will grace the stage with their global hit "I'm Good (Blue)" and follow up with "One in a Million." Expect an electrifying performance that showcases their musical synergy and chart-topping success.
Stray Kids' Action-Packed Debut
K-pop sensation Stray Kids will make their BBMAs debut with an action-packed performance featuring two of their hit singles, "S-Class" and "LALALALA." This marks the first time "LALALALA" will be performed at an awards show, adding an extra layer of excitement for fans.
NewJeans: Hot 100 Hitmakers
NewJeans, known for their Hot 100 hits, will take the stage with performances of "Super Shy" and "OMG." With two of their five songs making waves on the charts this year, their performance promises to be a celebration of their success.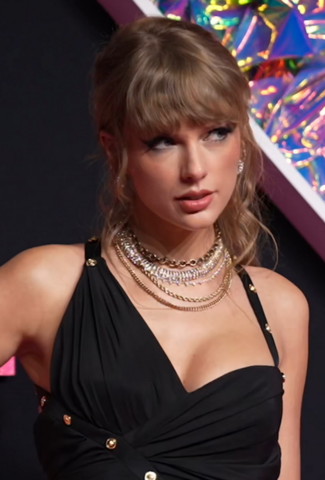 Credit: iHeartRadioCA via CC BY 3.0
Top Finalists and Record Nominations
Taylor Swift leads the pack as the top finalist at the 2023 BBMAs with an impressive 20 nominations. Runners-up include Morgan Wallen and SZA, each with 17 entries. The lineup of finalists reflects the dynamic range of musical talent, with artists like The Weeknd, Drake, Luke Combs, 21 Savage, Miley Cyrus, and many more receiving well-deserved recognition.
A Mosaic of Genres: K-Pop, Latin, and Beyond
The diversity of the lineup is the highlight to the evolving music scene, featuring two K-pop acts (NewJeans and Stray Kids) and two Latin artists (Peso Pluma and Karol G). This eclectic mix showcases the increasing diversification and global influence of contemporary music.
A Reimagined Awards Concept
The 2023 BBMAs promise a reimagined award show concept that blends performances and award celebrations in global locations, sold-out tours, and custom venues. The program, produced by Dick Clark Productions, aims to entertain fans with music and exclusive content, creating an immersive experience for viewers.
Fans First: A Unique Collaboration with Spotify
In a groundbreaking collaboration, the BBMAs and Spotify Fans First have joined forces to recognize fans who have been instrumental in driving their favorite artists to the top spots on the Billboard charts. These dedicated fans received a "golden ticket" granting them access to an exclusive performance curated by their favorite artists, specifically for the 2023 BBMAs.
Presenting Sponsor and Exclusive Experiences
Marriott Bonvoy, Marriott's travel program and marketplace, takes the spotlight as the presenting sponsor for this year's BBMAs. The event is also supported by sponsors like Lexus, who surprised a lucky fan with VIP treatment and a private ride in a luxury Lexus vehicle to a one-of-a-kind performance.
Final Words
As the stage is set for the 2023 Billboard Music Awards, anticipation is reaching a crescendo. With a diverse lineup, record nominations, and a reimagined awards concept, this year's BBMAs promise to be an unforgettable celebration of musical excellence.
Tune in on November 19 at 8 p.m. ET/5 p.m. PT to witness the magic unfold, marking a night that encapsulates the spirit and vibrancy of the contemporary music scene.
Join us on this musical journey that transcends genres, embraces diversity, and celebrates the outstanding achievements of the industry's brightest stars.
Related Articles: