Credit to Steve Jurvetson via CC Attribution 2.0
The music world is buzzing with excitement as the finalists for the 2023 Billboard Music Awards (BBMAs) were unveiled. It's a star-studded lineup, with artists like Taylor Swift, Morgan Wallen, SZA, The Weeknd, Drake, and Zach Bryan leading the pack. The stage is set for a night of celebration, recognition, and, of course, incredible performances.
But what makes these awards so prestigious, and what are the standout categories and artists to watch for? Let's look into the world of 2023 Billboard Music Awards and get ready for a musical extravaganza.
The 2023 Billboard Music Awards: A Prelude to Excellence
The BBMAs are renowned for honoring outstanding achievements in the music industry, and this year is no exception. The finalists for these awards are determined by year-end performance metrics on the Billboard charts, covering the period from November 19, 2022, to October 21, 2023. It's a comprehensive snapshot of the music landscape during that time, and the finalists are the results of their remarkable contributions.
Taylor Swift: The Leading Lady
Taylor Swift, a name synonymous with excellence in the music world, leads the 2023 BBMAs finalists with an astounding 20 nominations. With 29 previous BBMAs wins under her belt, she has the potential to break records this year. Swift's chart-topping hit "Anti-Hero" is up for an impressive five awards, including the coveted Top Hot 100 Song category. If Swift secures at least five victories this year, she could surpass Drake for the most BBMAs wins of all time.
Morgan Wallen: The Leading Male Finalist
Morgan Wallen takes the lead as the top male finalist, with a staggering 16 nominations and 17 entries. His presence is felt across various categories, including Top Artist, Top Male Artist, Top Billboard 200 Artist, and Top Hot 100 Artist. Wallen's album "One Thing At A Time" is a strong contender for two awards, while his hit "Last Night" is up for three, including Top Hot 100 Song.
Zach Bryan: The Rising Star
Zach Bryan, a first-time finalist, makes a remarkable entrance with 13 nominations and 14 entries. His presence extends across categories like Top New Artist, Top Male Artist, Top Hot 100 Songwriter, and Top Streaming Songs Artist. His song "Something In The Orange" is a finalist in three categories, including Top Streaming Song, Top Country Song, and twice in the Top Rock Song category.
Top Artist and Top New Artist Categories
The race for the night's top honor, Top Artist, includes not only Morgan Wallen and Taylor Swift but also Luke Combs, Drake, and SZA.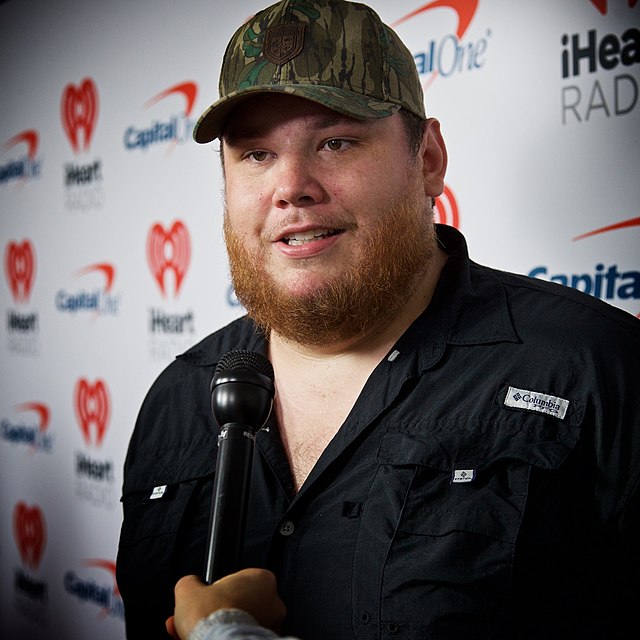 Credit to David Bergman via CC Attribution-Share Alike 4.0
In the Top New Artist category, Zach Bryan faces competition from Bailey Zimmerman and Jelly Roll, along with Ice Spice and Peso Pluma.
Country, Rock, and Hot 100 Categories
The country music scene is well represented in the BBMAs. The Top Country Artist category features Morgan Wallen, Zach Bryan, Taylor Swift, Luke Combs, and Bailey Zimmerman. In the Top Country Male Artist category, Combs, Wallen, and Bryan battle for the title. Swift, Lainey Wilson, and Megan Moroney compete for the Top Country Female Artist. Old Dominion, Parmalee, and Zac Brown Band are finalists for Top Country Duo/Group.
The Top Country Touring Artist category sees Wallen and Combs joined by the legendary George Strait. Combs, Wallen, Bryan, and Swift have earned nominations in the Top Country Album category. Notably, Bryan, Jelly Roll, Hardy, and Noah Kahan are nominated alongside Steve Lacy for Top Rock Album. Jelly Roll, Bryan, and Kacey Musgraves are also included in the Top Rock Song category.
New Categories: Hot 100 Songwriter and Hot 100 Producer
The 2023 BBMAs introduce new categories to celebrate the creative minds behind the music. In the Top Hot 100 Songwriter category, Nashville's Ashley Gorley is present alongside Zach Bryan, Taylor Swift, Jack Antonoff, and SZA. In the Top Hot 100 Producer category, Joey Moi represents Music City alongside Bryan, Swift, Antonoff, and Metro Boomin.
First-Time Country Finalists
This year's BBMAs welcome first-time country finalists, including Bailey Zimmerman, who is up for Top New Artist, Top Country Artist, and Top Country Song. Oliver Anthony, another newcomer, is nominated for Top Selling Song and Top Song Sales Artist.
The 2023 BBMAs: A Night to Remember
The 2023 Billboard Music Awards promise to be a spectacular celebration of musical excellence. The awards ceremony is set to take place on Sunday, November 16, with performances and awards rolling out across BBMAs and Billboard social channels. It's a night to honor the best in the music industry and a chance to witness breathtaking performances that will leave a lasting impression.
As music enthusiasts, we eagerly await the BBMAs to see who will take home the top honors and to revel in the magic of live performances. It's a night that will undoubtedly showcase the diversity, talent, and innovation that make the music industry shine.
For a full list of this year's finalists and to stay updated on all things BBMAs, visit billboard.com.
In conclusion, the 2023 BBMAs finalists highlight the dedication and artistry of these remarkable artists. It's a joyous tribute to music, the brilliance of talent, and the steadfast dedication to crafting melodies that touch the hearts of global audiences. As the awards night approaches, we can't help but feel excited about the magic that awaits.
Related Articles: