Credit to Katrina Paisano via Attribution
Country music has a rich history of producing iconic artists who have left a permanent mark on the genre. With each passing era, new talents emerge to carry the torch forward. In recent times, a rising star has been capturing hearts and ears with his soulful voice, heartfelt lyrics, and authentic storytelling. Zach Bryan is poised to become the next big thing in country music, breathing fresh life into a genre that thrives on genuine emotions and relatable narratives.
From Combat Boots to Cowboy Boots
Zach Bryan's journey to the forefront of country music is as unique as his sound. Before captivating audiences with his music, Bryan served in the U.S. Marine Corps, an experience that instilled in him a deep sense of discipline and a unique perspective on life. This background brings a raw authenticity to his music, evident in his lyrics that often touch on themes of sacrifice, camaraderie, and the trials of everyday life.
After leaving the military, Bryan turned to music as a form of therapy and self-expression. Armed with just an acoustic guitar and a soulful voice, he began uploading his original songs to platforms like YouTube. His unfiltered, emotionally charged performances struck a chord with listeners around the world, propelling him from obscurity to the verge of stardom.
Raw and Real Lyrics that Resonate
One of the standout features of Zach Bryan's music is his ability to pen lyrics that cut straight to the core of human emotions. His songs offer a window into his own experiences and feelings, tackling subjects such as love, heartbreak, longing, and personal growth. Bryan's songwriting resonates with listeners who appreciate the genuine and unpolished nature of his compositions.
In tracks like "Condemned" and "Heading South," Bryan's lyrics evoke a sense of vulnerability that draws listeners in. He doesn't shy away from addressing the complexities of life, often delving into his own struggles and introspections. This transparency creates a strong bond between Bryan and his audience, as his music becomes a soundtrack for their own journeys.
A Modern Sound with Traditional Roots
While Bryan's music is rooted in the traditional elements of country music, he brings a modern twist that appeals to a broad range of listeners. His acoustic-driven melodies and emotionally charged vocals harken back to the genre's authentic origins, while his unique style adds a contemporary flair that keeps his sound relevant and fresh.
Drawing inspiration from legends like Johnny Cash and Townes Van Zandt, Bryan blends classic country storytelling with his own distinctive approach. His ability to seamlessly bridge the gap between past and present has garnered him a dedicated fan base that spans generations, a testament to the timeless quality of his music.
Zach Bryan: Songs, Albums, Concerts, and Rewards
Zach Bryan has released three albums: "DeAnn" (2018), "Elisabeth" (2020), and "American Heartbreak" (2022). His songs have been streamed over 1 billion times on Spotify, and he has sold out major venues across the country, including Stubb's Waller Creek Amphitheater in Austin, Texas, and Ryman Auditorium in Nashville, Tennessee.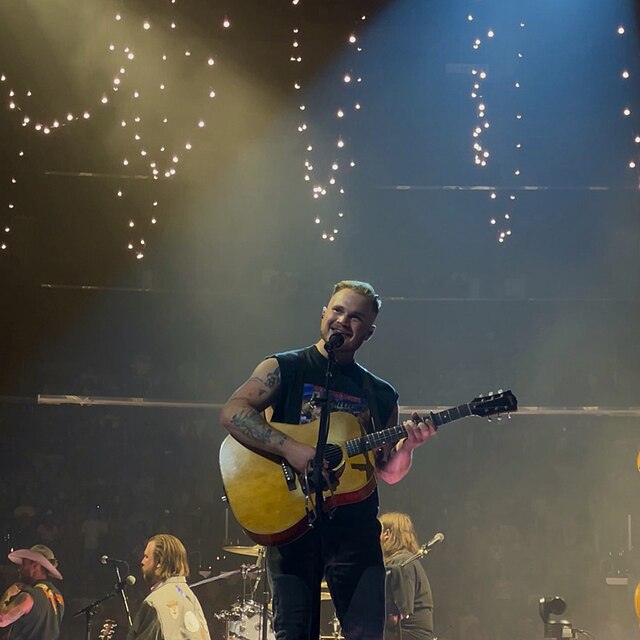 Credit to Katrina Paisano via Attribution
Bryan's music is a blend of country, folk, and Americana. His lyrics are often personal and introspective, and they deal with themes of love, loss, and redemption. His vocals are raw and emotional, and they perfectly complement his lyrics.
His most popular songs include "Heading South," "Something in the Orange," and "Violins." These songs have all been streamed millions of times on Spotify, and they have helped to make Bryan a household name in the country music scene.
He has also won several awards for his music, including the 2021 American Songwriter Award for Emerging Artist of the Year. He has also been nominated for several Grammy Awards.
In addition to his music career, Bryan is also a successful songwriter. He has written songs for other artists, including Cody Jinks and Whiskey Myers.
Bryan is a rising star in country music, and he is sure to continue to be successful in the years to come. He has already announced a tour for 2023, and he is sure to sell out shows across the country.
Here are some additional details about Zach Bryan's songs, albums, concerts, and rewards:
His albums have all been met with critical acclaim.
He has toured extensively, and his concerts are known for their high energy and enthusiasm.
He has won several awards, including the American Songwriter Award for Emerging Artist of the Year.
He has been nominated for several Grammy Awards.
Final Thoughts
Zach Bryan is a talented singer-songwriter who is quickly making a name for himself in the country music scene. His music is raw, honest, and emotional, and it has struck a chord with fans of all ages. Zach Bryan's emergence as a rising star in country music is a testament to the genre's ability to continuously evolve while staying true to its roots.
As fans eagerly await his future releases and performances, it's clear that Zach Bryan is well on his way to becoming a prominent figure in the country music landscape. He is bound to achieve continued success in the years that lie ahead.