Rod Stewart: Credit to Ian Dury via CC Attribution-Share Alike 3.0
Renowned rocker, Sir Rod Stewart is extending his successful Las Vegas residency for its 12th year, and will be putting on 13 new shows of his celebrated concert series "Rod Stewart: The Hits." Presented in collaboration with Caesars Entertainment and Live Nation Las Vegas, the shows will be held at The Colosseum at Caesars Palace. Fans can catch the "Rod Stewart: The Hits." concerts on various dates from May 3rd to 15th and from November 10th to 22nd in 2023.
For over a decade, Rod Stewart has been performing a unique, intimate concert experience exclusively for Las Vegas audiences. The concert takes place in an arena-sized venue, with no seat further than 145 feet away from the majestic stage. The show features an incredible setlist of chart-topping hits from Stewart's illustrious five-decade career, including "You Wear It Well," "Maggie May," "Da Ya Think I'm Sexy," "The First Cut is the Deepest," "Tonight's the Night," "Every Picture Tells A Story," "Infatuation," and "Forever Young." The production has received rave reviews and is widely regarded as one of the must-see shows on the Las Vegas Strip. Furthermore, Rod Stewart is a two-time Rock and Roll Hall of Fame, inductee.
What is A Las Vegas Residency?
A Las Vegas residency is a musical performance engagement where a musician or a band performs in one venue for an extended period. The term "residency" comes from the fact that the performer is essentially living in Las Vegas during the duration of the engagement. The show is typically performed several times a week for multiple weeks or months, with the artist performing a setlist of their greatest hits, often accompanied by an elaborate stage production and special effects.
One musician who has had a successful Las Vegas residency is Rod Stewart. He first started his residency in 2011 at The Colosseum at Caesars Palace, and since then has had several successful runs, with his most recent residency lasting from 2019 to 2020. During his residency, Stewart performed a variety of his greatest hits.
Las Vegas residencies have become increasingly popular in recent years, with many famous musicians and bands taking up these engagements. The residency allows musicians to perform in a single location for a long period, eliminating the need for travel and allowing them to establish a consistent fan base. Additionally, the high production values and the grandeur of Las Vegas make it an ideal location for elaborate stage shows and special effects, adding to the spectacle of the performance.
Rod Stewart's Early Years and Path to Fame
Rod Stewart's musical journey began in London, England, where he was born in 1945. Growing up, Stewart was exposed to a variety of music genres, including rock, R&B, and soul, which helped shape his musical tastes and influence his future career. At the age of 15, he began performing in local bands, honing his skills and developing his unique voice.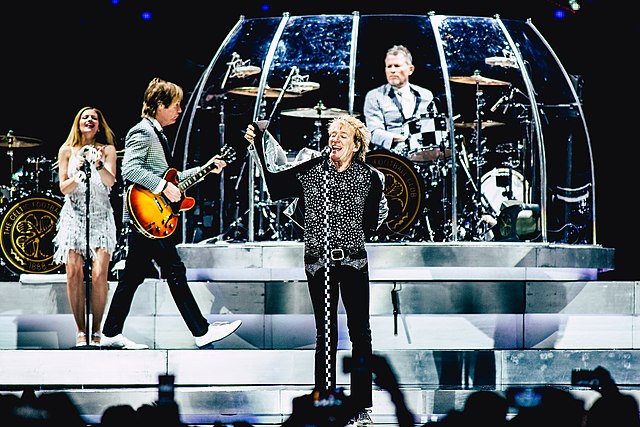 In the 1960s, Stewart's career gained momentum when he joined the Jeff Beck Group, where he showcased his talents as a vocalist and songwriter. The group's blues and rock-infused sound were well-received by audiences and established Stewart as a rising star in the British music scene. However, after two albums, the Jeff Beck Group disbanded, and Stewart moved on to form his own group, The Faces.
With The Faces, Stewart continued to make a name for himself in the British music scene, earning critical acclaim for his dynamic live performances. But it was his solo career that would bring him worldwide fame and success. In 1971, Stewart released his third solo album, "Every Picture Tells a Story," which included the hit singles "Maggie May" and "Reason to Believe." Stewart became a significant figure in rock music because of the album's success and chart-topping status.
A Diverse Discography
Rod has never been one to shy away from experimenting with different genres and musical styles, which is evident in his diverse discography. Starting out as a folk and rock singer in the late 60s and early 70s, Stewart's music quickly evolved into a blend of pop and rock, as he explored new sounds and experimented with various instruments. By the late 70s, he had embraced disco, which became a hallmark of his music and earned him a new legion of fans.
Another Stewart's hit album includes "Atlantic Crossing," which was released in 1975 and marked a shift towards a more pop-oriented sound. This album showcased Stewart's versatility as a musician and songwriter, as well as his ability to adapt to changing musical trends.
Stewart's chart-topping hits also proved his adaptability as an artist, from the disco-infused track like "Da Ya Think I'm Sexy?" to classic rock ballads like "Forever Young" and "The First Cut Is the Deepest."
In addition to his solo career, Stewart has also collaborated with other artists on various projects, including the Faces, Jeff Beck, and Tina Turner, among others. Due to his diverse discography and musical collaborations, he has established a prominent position in the history of music. As a result, he has won numerous awards and got admitted into the Rock and Roll Hall of Fame.
UK Summer Tour for 2023
As part of his Global Hits Tour, Rod Stewart has recently announced a series of his UK summer shows. The tour will begin on 24th June at Home Park Stadium in Plymouth and will conclude on 6th July with a performance at Edinburgh Castle. The shows promise to be filled with classic hits and fan favorites spanning Rod's impressive career. He is eagerly anticipating playing for his fans in a variety of venues, including football, cricket, and rugby stadiums, as well as estates and castles.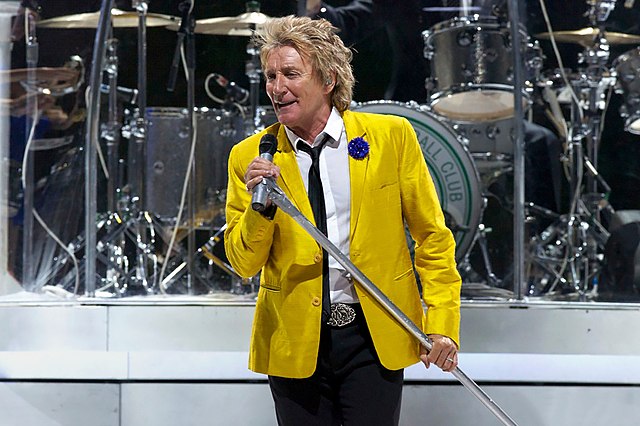 The 2023 summer shows will mark Rod Stewart's return to Edinburgh Castle after a 13-year absence. He will also perform in Plymouth, Durham, and Hull, cities he has not visited in some time. In addition, he will make his debut appearances at Northampton and Badminton. The show at Badminton Estate will be particularly noteworthy, as it will be the first time that the estate has hosted a live event. This is set to be a unique and magical evening for attendees.
Big Green Coach is partnering with Rod Stewart for the shows, offering transportation for fans who are attending. This is an opportunity for fans to see the legendary singer perform his classic hits in a variety of unique venues.
Final Words
Rod Stewart is set to delight his fans with an exciting lineup of shows in 2023. With his extended Las Vegas residency and the upcoming UK Summer Tour, there is no doubt that audiences will be treated to an unforgettable experience. From his classic hits to his new music, Rod Stewart's performances are sure to bring joy and excitement to his loyal followers. We can't wait to see what the legendary artist has in store for us and we are eagerly anticipating his new upcoming shows.