Credit to Raph_PH via CC Attribution 2.0
Red Hot Chili Peppers is a legendary band that is currently on a massive global tour. A number of well-known artists, such as Post Malone, The Strokes, and Iggy Pop, are there to support them. RHCP has a reputation for putting on amazing performances during their live concerts. The band connects with the audience on multiple levels, beginning with the lyrics and continuing through their aesthetics. Their popularity demonstrates that their music has been able to withstand the passage of time, as the band was established in 1983.
One thing that makes this world tour extra special is that it marks the comeback of guitarist John Frusciante to RHCP. Although the band kicked off the tour on January 29 in Brisbane, Australia, they will spend the greater part of this year performing their timeless hits all over Europe, including the United Kingdom, the United States, and the rest of Europe.
Recently, Red Hot Chili Peppers released their twelfth studio album, titled "Unlimited Love," in the month of April. This was the band's first recording with guitarist John Frusciante since the year 2006. It was also the band's first recording with producer and longtime collaborator Rick Rubin since the year 2011. The legendary albums "Blood Sugar Sex Magik "(1991), "Californication" (1999), "By the Way" (2002), and "Stadium Arcadium" (2006) are all products of their collaborative partnership with Rubin.
Now, the band's seminal lineup has returned with their new studio album, "Unlimited Love," as well as a record-breaking "Global Stadium Tour" which is starting off a brand new generation of fans for the legendary group.
The Formation of the Red Hot Chili Peppers
The early years of the Red Hot Chili Peppers were marked by a restless energy and a desire to create something new and exciting. The band was formed in Los Angeles in 1983 by high school friends Anthony Kiedis (vocals) and Michael "Flea" Balzary (bass), along with guitarist Hillel Slovak and drummer Jack Irons.
The band quickly made a name for themselves in the Los Angeles club scene with their high-energy performances and unique blend of funk, punk, and metal influences. Their early recordings, including their self-titled debut album in 1984, showcased their raw talent and untamed energy.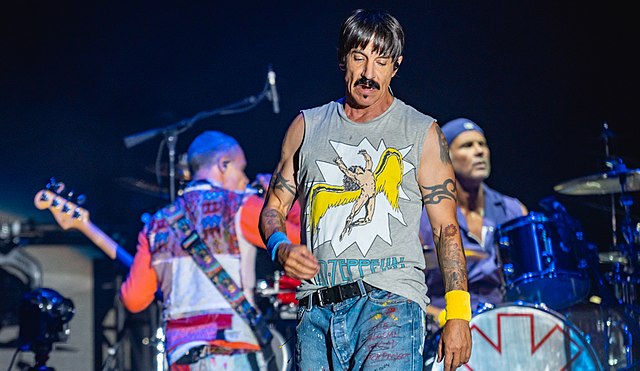 Tragically, Slovak passed away in 1988 from a drug overdose, a loss that deeply affected the band and would shape their music for years to come. The band continued on, bringing in guitarist John Frusciante and drummer Chad Smith to complete their lineup.
The new lineup brought fresh energy and creative direction to the band, and their next album, "Mother's Milk," marked a breakthrough moment in their career. The album featured the hit single "Higher Ground," a cover of a Stevie Wonder song that became a signature tune for the band and introduced them to a wider audience.
Despite the challenges and tragedies they faced early on, the Red Hot Chili Peppers remained committed to their vision and their unique sound. Their early years laid the foundation for a long and successful career.
RHCP Eccentric Personalities
One of the defining characteristics of the Red Hot Chili Peppers is their diverse musical style. The band's sound is characterized by a fusion of rock, punk, funk, and other genres, with each member bringing their unique musical background and style to the mix. This has allowed the band to continually evolve and experiment with their sound over the years, leading to an impressive catalog of music spanning over three decades.
While RHCP's music is undoubtedly a major aspect of their success, their personal lives and personalities have also played a significant role in their enduring popularity. The band members have been known for their eccentric personalities and wild antics, both on and off stage. From Flea's energetic and acrobatic bass playing to Kiedis' dynamic stage presence, RHCP's live performances are renowned for their raw energy and unpredictable nature. Their eccentricities are often expressed through their on-stage performances, where they showcase their wild and unpredictable nature.
A Turning Point Album
"Blood Sugar Sex Magik" was a pivotal album for the Red Hot Chili Peppers, marking a turning point in their musical career. The album showcased a more mature and polished sound, with more emphasis on melody and songwriting than their earlier albums. The result was a masterpiece that remains a cornerstone of the band's catalog.
One of the most significant changes in the band's approach to "Blood Sugar Sex Magik" was their decision to work with producer Rick Rubin. Rubin had a reputation for helping artists create breakthrough albums, and his influence on the Red Hot Chili Peppers' sound was evident. He helped the band refine their sound while also encouraging them to push their boundaries creatively.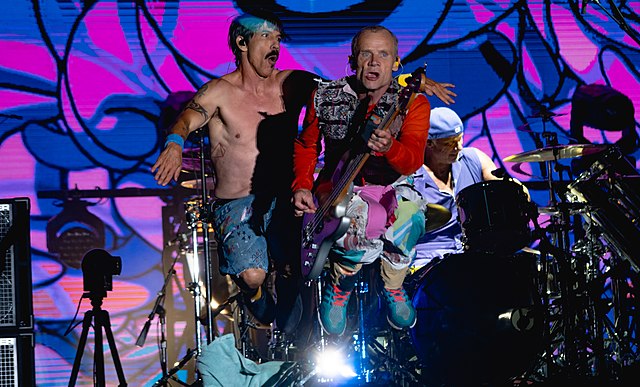 Another important factor in the success of "Blood Sugar Sex Magik" was the band's increased emphasis on songwriting. The album was packed with catchy hooks, memorable choruses, and well-crafted lyrics. From the funky groove of "Give It Away" to the introspective ballad "Under the Bridge," the songs on the album showcased a new level of maturity and sophistication in the band's writing.
Finally, the album's critical and commercial success signaled a new level of mainstream acceptance for the Red Hot Chili Peppers. With "Blood Sugar Sex Magik," the band reached new heights of popularity, earning multiple Grammy nominations and selling millions of records worldwide. The album marked a turning point in the band's career and solidified their place as one of the most influential rock bands of their generation.
Personal Lives of the Band Members
Behind the scenes, the personal lives of the Red Hot Chili Peppers band members have been just as fascinating and colorful as their music. Throughout the band's long and storied history, each member has dealt with their own personal challenges, from drug addiction to mental health issues.
Perhaps the most well-known member of the band, Anthony Kiedis, has had his share of personal struggles. Kiedis has been candid about his past struggles with drug addiction and has written extensively about his experiences in his autobiography, "Scar Tissue." He has also been an advocate for mental health awareness, speaking openly about his struggles with depression and anxiety.
Bassist Flea has also been vocal about his struggles with addiction but has also used his platform to champion environmental and social causes. He is an outspoken advocate for animal rights and has been involved in numerous charity efforts throughout his career.
Guitarist John Frusciante, who left the band twice before rejoining in 2019, has also had his share of personal challenges. He has been candid about his past drug addiction and has spoken about his struggles with mental health, including a diagnosis of bipolar disorder.
Drummer Chad Smith has been the most low-key member of the band, but he too has faced personal challenges. In 2014, he revealed that he had been battling a painful nerve condition called CRPS for several years, which required extensive physical therapy and surgery. Despite his health struggles, Smith has remained an integral part of the band's success over the years.
Through it all, the personal lives of the RHCP band members are witness to their resilience and creativity. Their struggles and triumphs have been reflected in their music.
Extensive 23-date World Tour for 2023
In order to promote their two most recent studio albums, "Unlimited Love" and "Return of the Dream Canteen," the Red Hot Chili Peppers have announced plans to embark on a massive 23-date global tour in the year 2023.
The band will be accompanied on select dates of their tour through North America and Europe by St. Vincent, the Strokes, King Princess, Iggy Pop, the Roots, the Mars Volta, and City and Colour. The tour will take place in both North America and Europe. Red Hot Chili Peppers are scheduled to give headlining performances at stadiums in a variety of cities, including Las Vegas, San Diego, Phoenix, Houston, Vienna, and London, amongst others.