Credit to Ronald Woan via CCommons Attribution-Share Alike 2.0
Taylor Swift, the American singer-songwriter phenomenon, has etched her name into the annals of music history with a career that spans over a decade and a half. From her humble beginnings as a country darling to her transformation into a global pop icon, Her artistic development, resilience, and ability for self-expression are all embodied in Swift's personal journey.
1. A Country Prodigy Blossoms
In the mid-2000s, a young Taylor Swift emerged on the music scene with her acoustic guitar and storytelling prowess. The country music world quickly embraced her as she crooned about heartaches, first loves, and everyday struggles. Swift's authenticity shone through in hits like "Teardrops on My Guitar," where her ability to turn personal experiences into relatable stories resonated deeply. Her poignant lyrics and emotional delivery not only endeared her to fans but also showcased her songwriting ability. As her popularity soared, her presence in country music became more known, proving herself as a rising star on a trajectory toward greatness.
2. Fearless: Embracing Change
Swift's sophomore album, "Fearless," signaled a pivotal shift in her career. With the introduction of a pop-infused sound, Swift broadened her audience while remaining true to her core narrative-driven songwriting. This marked her evolution from a country ingenue to a crossover sensation.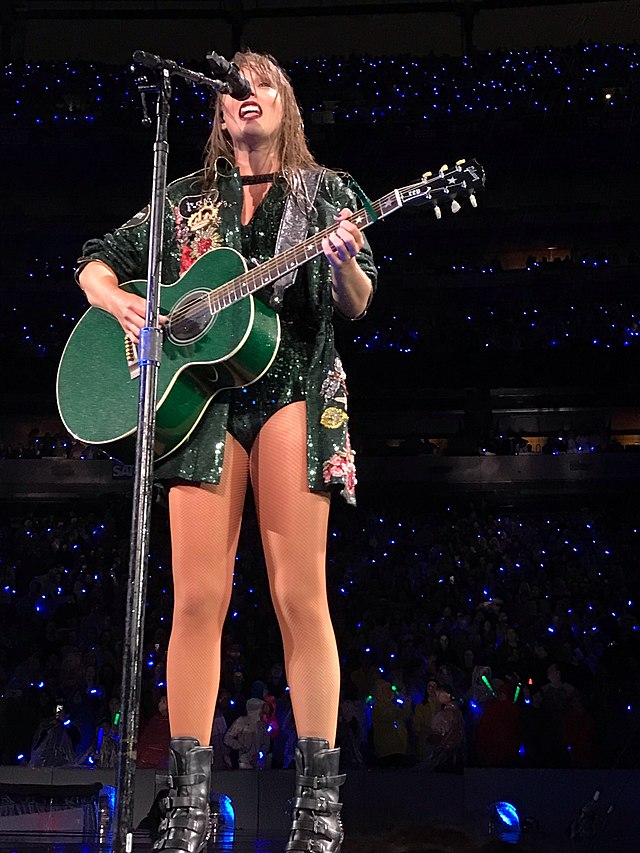 Songs like "You Belong with Me" tapped into universal themes of unrequited love and adolescent yearning, showcasing her innate ability to capture the essence of youth. Swift's genuine connection with her audience was palpable, as she transformed her own experiences into anthems that reverberated with millions. "Fearless" was not just an album; it was a proof to her fearless approach to embracing change and her unwavering commitment to crafting better music.
3. Red: The Art of Emotional Maturity
"Red," an album synonymous with emotional depth, showcased Swift's coming-of-age both personally and musically. Straying further from her country roots, she dabbled in pop-rock sounds and experimented with themes of heartbreak, passion, and self-discovery. The title track's exploration of the complexities of love highlighted Swift's ability to convey raw emotion through her music. This album was a stepping stone, proving her willingness to push her artistic boundaries while staying true to her distinctive voice. Swift's lyrical growth and her boldness in exploring a broader sonic landscape set the stage for her continued evolution as an artist.
4. 1989: A Pop Marvel
With album "1989" Taylor Swift marked a definitive departure from country music as she fully embraced pop. The album's synth-driven beats and bold statements marked a new era for her. Tracks like "Shake It Off" not only became instant pop anthems but also tackled tabloid scrutiny head-on with a touch of satire. The accompanying music videos added an extra layer of visual storytelling, turning her into a more multifaceted artist. Swift's transformation into a bona fide pop star came with a reinvention of her image and a steadfast commitment to her artistic vision. The success of "1989" wasn't just about the music; it related to Swift's adaptability, resilience, and her skill in crafting catchy tunes that spoke to a global audience.
5. Reputation: Owning Her Narrative In "Reputation,"
Swift reclaimed her narrative amidst media controversies. The album's darker tones and edgier sound reflected her defiance in the face of adversity. Songs like "Look What You Made Me Do" demonstrated her ability to wield her personal struggles into art, further endearing her to fans. Her skill in transforming vulnerability into strength firmly established her as an exemplar of empowerment.
The album unveiled the message of self-assurance and a declaration that Swift wouldn't be defined by external opinions. Through "Reputation," she showcased her ability to harness personal challenges as a driving force behind her music, showing herself as a fierce and unapologetic artist.
6. Lover: A Return to Warmth
"Lover" marked a shift back to a more wholesome sound, reflecting Swift's newfound contentment in both her personal life and her music. The album's love-infused themes celebrated romance and self-acceptance, providing a refreshing counterpoint to her previous works. Tracks like "ME!" and "You Need To Calm Down" combined pop sensibility with messages of self-love and inclusivity, dealing with Swift's commitment to social causes. "Lover" was the reason to her ability to evolve while staying true to her values, capturing the warmth of human connection through her melodies and lyrics. As she navigated this new chapter, Swift continued to prove that her artistic journey was as genuine as her heartfelt lyrics.
7. Folklore and Evermore: A Lockdown Surprise
The unexpected release of "Folklore" and "Evermore" amidst the global pandemic showcased Swift's versatility yet again. Departing from the high-energy pop, these albums embraced a more indie-folk vibe, demonstrating her adaptability across genres. The introspective and melancholic nature of these albums echoed deeply with listeners navigating uncertain times, making Swift's music a voice of comfort and connection. The surprise drops of these albums connected with her audience on a profound level, providing solace during challenging times. As Swift continued to evolve, her musical range and willingness to explore uncharted territories, reinforced her career as a musical chameleon.
Conclusion
Taylor Swift's journey from a young country prodigy to a global pop sensation is a genuine tale of evolution, self-discovery, and artistic authenticity. With each album, she has defied expectations, taken risks, and connected deeply with her audience through relatable storytelling. Swift's ability to continually reinvent herself while staying true to her essence created her lasting impact on the music industry and her unwavering connection with fans across the world.
Her legacy extends beyond chart-topping hits; it encompasses a narrative of growth, empowerment, and a profound understanding of the human experience. As Taylor Swift continues to shape the musical landscape, her journey is an ongoing symphony of creativity and inspiration that shows no signs of slowing down. With each new chapter, Swift adds layers to her story, reminding us all that the pursuit of self-expression knows no bounds.