Blick-182 – Credit to User:Wooblz! via CC Attribution-Share Alike 3.0
The American rock band Blink-182 will be performing live across the globe as part of their World Tour 2023/2024. The initial concert is scheduled to take place at the Xcel Energy Center in St. Paul, Minnesota, on May 4, 2023. Along with the news that Blink-182 would be performing again with frontman and guitarist Tom DeLonge for the first time since 2014.
Blink-182 World Tour 2023/2024 will be the band's first tour since 2014 to feature original vocalist and guitarist Tom DeLonge. It will also commemorate the band's thirty-year anniversary. In addition, it will be the very first time they have ever performed in South American countries. Since 2004, the band has not performed in any place within the Mexican market. Barker's post-crash anxiety, which began after his plane went down in 2008, made previous attempts difficult for the band to tour around the globe.
The year 2021 marked the first time since the incident that Barker boarded a plane, which made it possible for the band to schedule performances in different locations around the world. Tom Delonge made the announcement on his Instagram account, that the Latin American dates would be rescheduled for the year 2024. This is the result of Travis Barker's need to undergo surgery for a finger injury during their rehearsals.
A Look into the Iconic Pop-Punk Band
Blink-182 is one of the most iconic and influential bands in the pop-punk genre. Formed in Poway, California, in 1992, the band consists of Mark Hoppus, Travis Barker, and Matt Skiba. Their music is characterized by high-energy instrumentation and irreverent humor, which have made them beloved by fans worldwide. Blink-182 became popular in the late 1990s and early 2000s with hit albums like "Enema of the State" and "Take Off Your Pants and Jacket."
One of the hallmarks of Blink-182's music is its exclusive sound and style. The band blends fast-paced punk rock with pop sensibilities and witty lyrics that often touch on themes of youth, love, and growing up. Their music has turned acceptable to the young generation, many of whom grew up listening to Blink-182's songs and lyrics.
Their style, which often includes loud and colorful clothing, has become synonymous with the pop-punk scene. The band's music has also been featured in films, TV shows, and video games, creating its place in popular culture. Despite several lineup changes and hiatuses over the years, Blink-182 remains the fans' favorite singers and powerful band.
The Origins of Blink-182
The band's origin can be traced back to Poway, California, where founding members Mark Hoppus and Tom DeLonge first met in high school. The two bonded over their shared love of punk rock music and formed the band Blink in 1992. They released their debut album, "Cheshire Cat," in 1995, which garnered them some attention in the underground punk scene.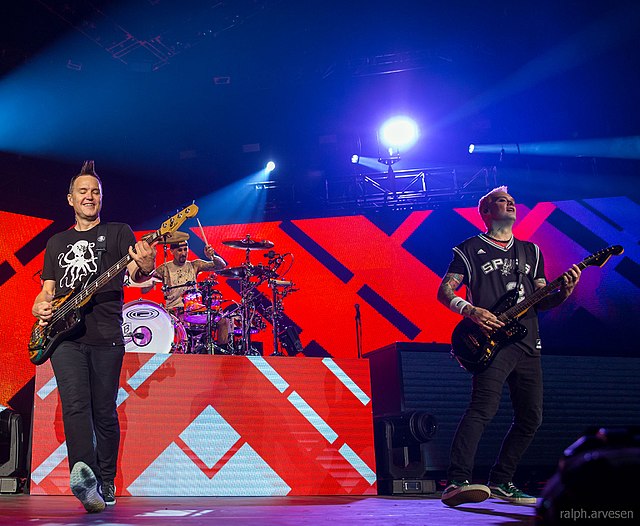 However, it was their third album, "Enema of the State," that catapulted Blink-182 to mainstream success. Released in 1999, the album featured hit songs like "All the Small Things" and "What's My Age Again?" and helped to define the sound of pop-punk in the late 1990s and early 2000s. The album sold over 15 million copies worldwide and made Blink-182's place in music history.
The distinctive sound and appearance of Blink-182 set them apart from other pop-punk acts. They combined frantic punk rock with unique pop hooks, humorous lyrics, and lyrics that frequently dealt with themes of adolescence and growing up. The band's irreverent comedy and exuberant live performances also contributed to their great popularity.
Band Changes, Hiatuses, and Comebacks
Throughout their career, Blink-182 has had a turbulent history of band changes, hiatuses, and comebacks. In 2005, the band announced an indefinite hiatus, citing personal differences and creative disagreements. This was a major blow to fans who had grown to love Blink-182's impudent style of pop-punk music.
During the hiatus, the band members pursued their own solo projects and other musical endeavors. Mark Hoppus formed the band +44, while Tom DeLonge started the band Angels & Airwaves. However, in 2009, Blink-182 announced that they would be reuniting and releasing a new album. The reunion was met with excitement from fans and marked a new chapter for the band.
In 2015, the band went through another significant change when Tom DeLonge departed from the group. He was replaced by Matt Skiba, who had previously been the frontman for the band Alkaline Trio. The addition of Skiba brought a new energy and sound to the band, and they released their seventh studio album, "California," in 2016.
Since then, Blink-182 has continued to tour and release new music, with their latest album, "Nine," coming out in 2019. While the band has gone through many changes over the years, they have remained a beloved and influential part of the pop-punk genre. Despite their turbulent history, Blink-182 has shown that they are a resilient and enduring power in music. For this year they are expected to perform once again live on stage with their Blink-182 World Tour 2023/2024.
Blink-182 World Tour
Fans are extremely happy because Blink-182 has reunited with their original members, Tom DeLonge, Mark Hoppus, and Travis Barker. The comeback of the pop-punk band is being dubbed the "Feeling This" reunion because tickets for their global tour are available all the way through the year 2024. The massive tour will be their first live performance together in almost a decade, and it will also cover new territory by including their first Latin American leg in addition to full runs across North America, Europe, and Australia.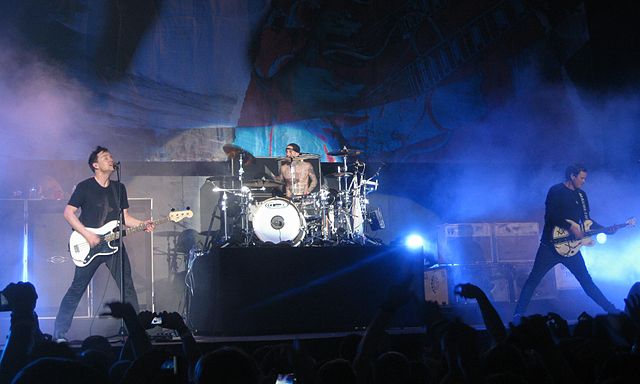 The first time the reunited Blink-182 will perform together will be on May 4 in St. Paul, Minnesota, the first stop of a North American portion of their tour. After that, they will play a number of concerts in the Midwest and Canada, including those in Chicago, Detroit, Toronto, and Montreal, as well as other cities, before headlining at Madison Square Garden in New York City.
They will wrap up their tour of the East Coast with stops in Boston, Washington, District of Columbia, and Baltimore, performing two more concerts in New York City. During that same week, they will perform at the UBS Arena on Long Island and the Barclays Center in Brooklyn respectively.