Credit to Zpb52 via CC Attribution-Share Alike 4.0
Have you ever wondered what makes The Ryman Auditorium in Nashville, Tennessee, such a legendary venue? What is it about this hallowed stage that draws rising stars and compels music legends to return time and time again? Join us as we take a journey through the rich history and vibrant present of The Ryman, exploring how it has become a stage where both new talent and established icons find their place in the spotlight.
The Ryman Where Legends Are Born
The Ryman Auditorium has earned its reputation as the "Mother Church of Country Music" for a reason. This historic venue has witnessed the rise of countless country music legends. From Hank Williams to Patsy Cline, and Johnny Cash to Dolly Parton, the stage at The Ryman has been graced by the most significant names in the genre. These legends carved their places in music history under the bright lights of this iconic auditorium.
Consider the likes of Hank Williams, whose unforgettable performances at The Ryman in the 1950s left a mark on country music. The Grand Ole Opry, a show synonymous with The Ryman, was also the stage where Johnny Cash first met his future wife, June Carter. These stories are woven into the fabric of The Ryman's legacy, and it continues to pay homage to its roots by featuring country music's rising stars alongside these legendary figures.
Modern Icons and Their Ryman Moments
The Ryman Auditorium isn't just a museum of musical history; it's a living, breathing testament to the ever-evolving world of music. Modern icons like Chris Stapleton, Brandi Carlile, and Sturgill Simpson have graced The Ryman's stage, proving that its allure extends far beyond its storied past. These artists, with their unique sounds and innovative approaches, have found a home at The Ryman, continuing the venue's tradition of embracing diversity in music.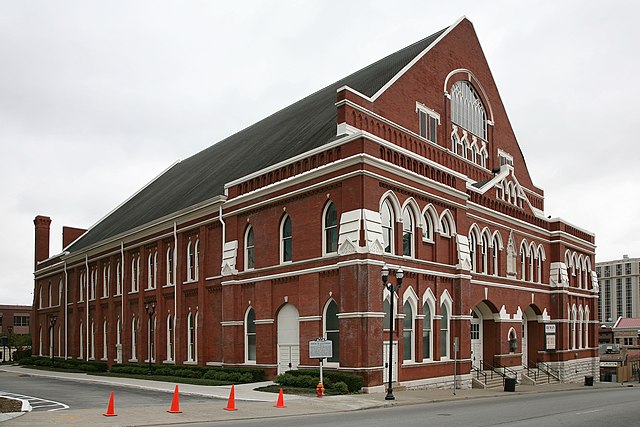 Credit to Daniel Schwen via CC Attribution-Share Alike 4.0
Chris Stapleton's sold-out shows at The Ryman marked a pivotal moment in his career, as they showcased his immense talent and catapulted him to superstardom. Similar to this, Brandi Carlile's mesmerizing performances have proven her position as a contemporary music star. These artists' return to The Ryman isn't just a concert; it's a celebration of their journey from emerging talents to global stars.
commons.wikimedia.org/wiki/User:Dschwen(opens in a new tab)
A Stage Beyond Genre: Diversity and Inclusivity
The Ryman's allure transcends genre boundaries. While it's renowned for its country music legacy, it has also welcomed artists from various musical backgrounds. From rock 'n' roll legends like Elvis Presley to soulful voices like Aretha Franklin, The Ryman has showcased the versatility of its stage.
The Ryman's diversity is best exemplified by the Queen of Soul herself, Aretha Franklin. Her performance at The Ryman was a historic moment in the venue's history, showcasing its ability to embrace artists from different musical backgrounds. This speaks to The Ryman's lasting charm and its dedication to offering a platform where voices from all musical genres can truly excel.
Rising Stars and The Ryman's Role
This auditorium is not just a platform for established acts; it's also a place where rising stars find their footing. Emerging artists often dream of gracing the same stage where legends have stood. The Ryman provides them with a chance to step into the limelight and make their mark in the music industry.
Acts like Kacey Musgraves and Margo Price are prime examples of rising stars who have taken the Ryman stage by storm. Kacey Musgraves, before her Grammy-winning success, was already captivating audiences with her unique sound at The Ryman. Margo Price, a Nashville native, found validation and recognition on her home turf, setting her place as a rising country star.
The Intimate Atmosphere: A Connection Beyond Music
One of the secrets behind The Ryman's enduring success is its intimate atmosphere. The venue's historic pews, exceptional acoustics, and warm ambiance create a unique connection between artists and audiences. It's a space where music transcends mere entertainment and becomes a shared experience.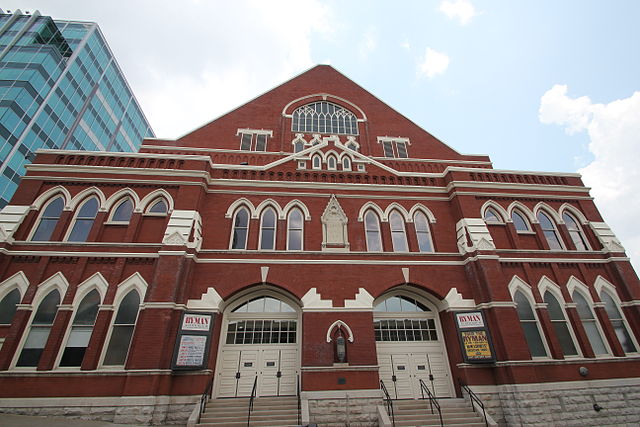 Credit to Tenorsaxylady via CC Attribution-Share Alike 3.0
When artists like Bruce Springsteen or Mumford & Sons perform at The Ryman, they often comment on the special connection they feel with the audience. It's not just another entertainment center in the US; it's a place where artists can intimately share their craft, stories, and emotions with fans who are there not just to listen but to connect on a deeper level.
The Ryman's Ongoing Legacy
As we look to the future, The Ryman Auditorium continues to be a vital part of the music landscape, attracting new talent and welcoming back legendary artists. Its commitment to preserving its rich history while embracing the evolving world of music ensures that it will remain a stage where rising stars shine and legends return for generations to come.
The Ryman's ongoing legacy is exemplified by artists like Jason Isbell and Maren Morris, who have found immense success and acclaim while nurturing their connection to The Ryman. These artists, with one foot in the past and the other firmly planted in the future, pay homage to the venue's history while pushing the boundaries of contemporary music.
Final Words
The Ryman Auditorium stands as a living influence to the power of music to bridge generations, genres, and backgrounds. It's a stage where rising stars shine alongside legends, where music's past and future coexist, and where the magic of live performance continues to thrive. Attending a concert at The Ryman gives you the chance to fully immerse yourself in its thriving musical history and inventiveness — whether you're a dedicated music aficionado or just appreciate a good song occasionally.