Credit to Brittle617 via CCAttribution-Share Alike 4.0
Can you imagine a baseball stadium transforming into a massive rock arena, with thousands of fans singing along under the starry Boston sky? Fenway Park has witnessed some unforgettable concerts that left a mark on the city's music history. From classic rock legends to contemporary pop icons, these artists have not only filled the seats but also the hearts of fans. Let's dive into the electrifying performances and unforgettable moments that have made Fenway Park an iconic music venue.
1. A Historic Prelude: The Rolling Stones (2005)
In 2005, Fenway Park witnessed a historic event as The Rolling Stones, the epitome of rock 'n' roll legends, took over the stage. It was an electrifying night that marked a turning point for the ballpark, proving it could host more than baseball games. With Mick Jagger's charismatic moves, Keith Richards' iconic guitar riffs, and the band's unparalleled energy, they launched into classics like "Start Me Up," "Paint It Black," and "Brown Sugar."
The Stones' performance at Fenway Park is still discussed with awe, as it set the bar high for the future of concerts at the venue. The "A Bigger Bang" tour not only rocked Fenway but also showcased the timeless appeal of rock music to both longtime fans and a new generation of enthusiasts.
2. The Boss Takes Center Stage: Bruce Springsteen (2003, 2012, 2016)
When you think of epic live performances, Bruce Springsteen immediately comes to mind, and Fenway Park has been lucky to host "The Boss" on multiple occasions. His legendary shows in 2003, 2012, and 2016 turned the ballpark into a musical pilgrimage site for fans. With marathon-length concerts that sometimes exceeded three hours, Springsteen and the E Street Band captivated the audience with hits like "Born to Run," "Thunder Road," and "Dancing in the Dark."
These shows were more than concerts; they were communal experiences that united generations of fans in a celebration of rock and the indomitable spirit of Boston. Springsteen's ability to connect with his audience, combined with Fenway's unique ambiance, created unforgettable memories that will be cherished by music lovers for years to come.
3. A Journey Through Classic Rock: Aerosmith (2010)
Aerosmith, Boston's homegrown rock legends, etched their name in Fenway Park's storied history with a monumental concert in 2010. Celebrating their 40th anniversary as a band, Steven Tyler, Joe Perry, and the rest of the group delivered a performance for the ages. The air was charged with excitement as the opening chords of "Dream On" reverberated through the stadium, setting the stage for a night of rock 'n' roll euphoria. Classics like "Sweet Emotion," "Crazy," and "Walk This Way" had fans singing along at the top of their lungs.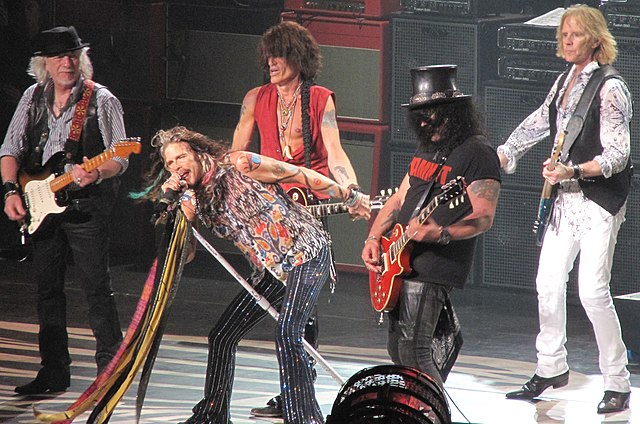 Credit to bobnjeff via CC Attribution 2.0
The concert was a testament to the enduring power of Aerosmith's music and their deep connection with their hometown fans. It was a night that showcased the band's charisma, talent, and their undeniable influence on the world of rock.
4. Iconic Pop Diva: Lady Gaga (2017)
Fenway Park's musical repertoire isn't limited to rock; it embraces modern pop sensations as well. In 2017, Lady Gaga brought her "Joanne World Tour" to the ballpark, dazzling fans with her unmatched talent and theatrical flair. From the moment she took the stage, Fenway Park was transformed into a kaleidoscope of colors and energy. Lady Gaga's incredible vocals, mesmerizing costumes, and genre-defying hits like "Poker Face" and "Bad Romance" resonated with the crowd.
The concert proved that Fenway Park wasn't confined to a specific genre; it could host diverse musical styles while maintaining its unique atmosphere. Lady Gaga's performance marked a chapter in Fenway's evolving music legacy, showcasing its ability to adapt and welcome artists from various genres, cementing its status as a premier concert venue.
5. Country Charm in the City: Zac Brown Band (2016)
Country music found its place under the Fenway Park lights when the Zac Brown Band took the stage in 2016. Known for their harmonious melodies and energetic performances, the band turned the iconic ballpark into a southern hoedown. Fans from all walks of life gathered to celebrate the band's unique blend of country, rock, and folk music.
Hits like "Chicken Fried," "Homegrown," and "Toes" resonated throughout Fenway, evoking a sense of nostalgia for the countryside even in the heart of the city. The Zac Brown Band's memorable night demonstrated Fenway's versatility as a concert venue, proving that it could cater to a diverse range of musical tastes while delivering a memorable experience for all.
6. The Modern Legend: Billy Joel (2015, 2017, 2019)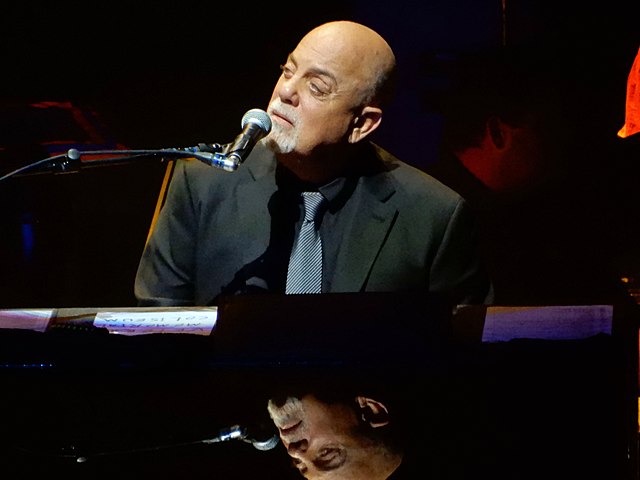 Credit to slgckgc via CC Attribution 2.0
Billy Joel, often referred to as the "Piano Man," made Fenway Park his musical haven with a series of unforgettable concerts in 2015, 2017, and 2019. Armed with just his piano and a vast catalog of timeless hits, Joel mesmerized the audience, turning the baseball diamond into a collective sing-along.
With classics like "Uptown Girl," "Piano Man," and "We Didn't Start the Fire," Joel transported fans through decades of music history. Each performance was a testament to his enduring appeal and his remarkable ability to connect with audiences of all ages. Fenway Park became a timeless arena for music lovers, as Joel's concerts proved that great music transcends generations and continues to bring people together, making memories that will resonate for years to come.
Final Thoughts
From rock legends like The Rolling Stones to pop sensations like Lady Gaga, Fenway Park's stage has welcomed a diverse array of musical talents, solidifying its status as a versatile and iconic concert venue. These artists haven't just performed; they've left an indelible mark on the stadium's history and in the hearts of fans. Fenway Park's unique blend of history, ambiance, and acoustics has transformed it into a treasured gem in the world of live entertainment.
Fenway Park's rich musical history promises something for everyone. As the legendary "Monstah" continues to host iconic performances, it remains a symbol of Boston's enduring love for both sports and music. So, the next time you find yourself in Boston, consider catching a concert at Fenway Park and experience the magic for yourself. From the Rolling Stones to Billy Joel, these artists have proven that when it comes to music, Fenway Park isn't just a ballpark; it's a stage for unforgettable memories and musical milestones.