Elton John – Credit to Tomtom80 Thomas Waleczka used under Public domain
The name Elton John is synonymous with the world of music. He is one of the world's most beloved and iconic musicians and has been at the forefront of popular music for over 5 decades. With his extraordinary voice and hit compositions, Reginald Kenneth Dwight, more commonly known as Elton John, has totally mesmerized the hearts of many people across the globe.
His timeless hit songs continue to resonate with his fans due to their sheer brilliance. With 30 studio albums and an incredible top 50 hits to his name, he became one of the most renowned musicians of all time—and still counting! It's no wonder why Elton is widely respected as a songwriting genius.
Early Life and Career: The Roots of Elton John's Success
Elton John was born in 1947 in Pinner, England. As a child, he showed a natural talent for music and began playing the piano at a young age. He attended the Royal Academy of Music, where he studied classical music, but he was also interested in rock and roll and pop music. After leaving the academy, he joined a series of bands and eventually became a successful session musician, playing on numerous records and touring as a backup musician for other artists.
In 1969, Elton teamed up with lyricist Bernie Taupin to create a new kind of music that would become known as "Rocket Man." Their partnership was immediately successful, and their first album, "Empty Sky," was released in 1969. Over the next few years, they continued to release hit after hit, including "Your Song," "Tiny Dancer," and "Rocket Man." He also wrote and performed the music for "The Lion King" and "The Little Mermaid" soundtracks, cementing his place as a one-of-a-kind iconic figure in the world of entertainment.
Music and Style: A Unique Sound and Vision
Both on and off the stage, Elton John is widely acclaimed for his unique and flamboyant style. He is admired for his distinctive voice and his piano playing, which is characterized by his powerful, emotive playing style. He is also known for his colorful stage costumes, which often feature large glasses, over-the-top hats, and brightly colored suits.
His music is equally distinctive, with a sound that balances rock, pop, and classical music. He has written and recorded hundreds of songs over the years, many of which have become timeless classics. The lyrics he used reflect his personal experiences and emotions, and they are known for their honesty, sincerity, and humor.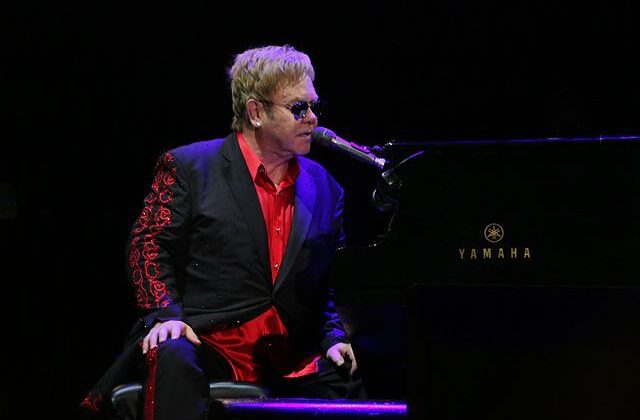 Success and Impact: A Life-Long Legacy
Over the course of his long and illustrious career, Elton John has sold more than 300 million records and won numerous awards and honors. He has been inducted into the Rock and Roll Hall of Fame, the Songwriters Hall of Fame, and the Grammy Hall of Fame. He has also received many honors and awards, including the Kennedy Center Honors, the Brit Awards, and the Academy Awards.
His influence on the music industry has been tremendous. Elton has inspired countless musicians and artists, and his music continues to be beloved by fans of all ages. Aside from this, he has been a tireless advocate for numerous social and political causes, including LGBTQ rights, HIV/AIDS awareness, and environmental protection.
Stage Performance: US Venues and Tour Concerts
Elton's concert performances across the United States have been absolutely astounding. He has graced some of the nation's most storied stages, including Madison Square Garden in New York City, the Hollywood Bowl in Los Angeles, and the Civic Center in Atlanta.
One of his most memorable concerts was his performance at the Dodger Stadium in 1975. The concert was a historic event, as it was the first time a rock artist had performed at the stadium. With a crowd of over 100,000 fans, the concert was a huge success and is considered one of the best live performances of Elton John's career.
He has been a frequent touring artist throughout his career, performing multiple concerts all over the world. Some of his most memorable tours include his "Greatest Hits" tour in the late 1970s, his "Too Low for Zero" tour in the early 1980s, and his "Red Piano" tour in the mid-2000s.
Elton John's tours are known for their high-powered performances, elaborate stage shows, and powerful renditions of his greatest hits. He always strives to give his fans the best possible live experience, and his concerts are always a hit with audiences of all ages.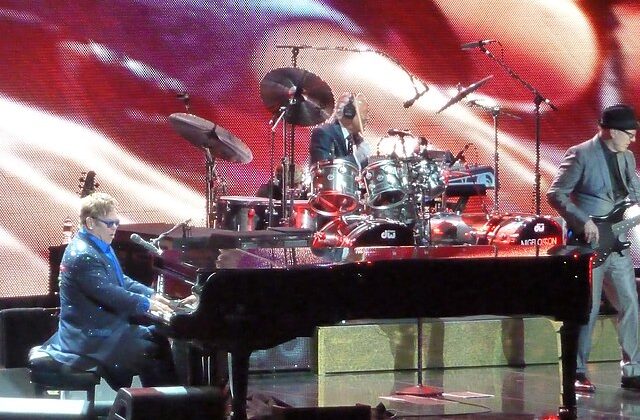 Upcoming Concert: New Tour for 2023
Fans of Elton John will be thrilled to hear that he has announced a new tour for 2023. This tour, which is set to kick off in the spring of 2023, will see Elton John perform his greatest hits for fans in the United States and Europe.
The tour promises to be a celebration of his incredible career and will give fans the opportunity to experience his music live and in person. Fans can expect his classic hits such as "Your Song" or "Rocket Man", as well as some of his more recent releases including "I'm Still Standing" and "Circle Of Life". Elton has also promised to bring out some special guests who have worked closely with him throughout his career.
The venue concert has not yet been revealed, but Elton's fans can expect an announcement soon. He will be performing in multiple locations to ensure bigger crowds will witness his incredible show. Be prepared for an unforgettable night of a spectacular performance.
David Furnish: Long-Time Partner
Elton John is also known for being openly gay and has been an advocate for LGBTQ+ rights throughout his career. He has been married twice – first to Renate Blauel in 1984, and then to his long-time partner, David Furnish, in 1993. Furnish is a Canadian filmmaker, and the couple entered into a civil partnership in 2005 when same-sex partnerships were first legalized in the United Kingdom. In 2014, they married in England when same-sex marriage became legal in the country.
Together, Elton John and David Furnish have two children, a son named Zachary and a son named Elijah. The family currently resides in England and continues to be active in charitable and philanthropic efforts, including support for organizations such as the Elton John AIDS Foundation.
Elton John: A Living Legend
With a legacy that spans five decades, Elton John is one of the most prominent and revered musicians in history. Even today, his timeless songs still remain relevant in popular culture. He remains an active and vital force in the music industry, and his legacy will continue to inspire and influence musicians and fans for generations to come.