Celine Dion – Credit to Anirudh Koul via CC Attribution 2.0
French-Canadian singer Celine Dion rose to stardom with a string of stirring songs, including the Oscar-winning "My Heart Will Go On" from the film Titanic (1997). She had already recorded nine French albums and won a slew of prizes by the time she turned 18. Dion released her first album in English in 1990 titled "Unison." But it wasn't until 1992, when she recorded the song for Disney's smash hit animated picture "Beauty and the Beast," that she really broke through in the pop music industry. Three of her songs reached number one on the charts: "The Power of Love," "Because You Loved Me," and "I'm Your Angel."
The success of "Beauty and the Beast"
Celine Dion made her American breakthrough with the release of her first English-language album, "Unison," in 1990. Produced in collaboration with David Foster, a renowned songwriter-arranger-musician, the album achieved remarkable success, selling over one million copies worldwide, fueled by the Top 5 single "Where Does My Heart Beat Now."
However, Dion's true breakthrough into pop music stardom occurred in 1992 with her recording of the title theme for Disney's beloved animated film, "Beauty and the Beast," a duet performed alongside Peabo Bryson. The song, aptly named "Beauty and the Beast," climbed to No. 9 on the Billboard Hot 100 chart and earned both a Grammy and an Academy Award.
This iconic track was featured on Dion's second English album, self-titled as "Celine Dion." The album became her first gold record in the United States, selling over 12 million copies worldwide. Another hit from the album, "If You Asked Me To," reached No. 4 on the Billboard Hot 100 and claimed the top spot on the adult contemporary chart. The undeniable success of her self-titled album paved the way for Dion to embark on her inaugural headlining tour in the United States.
"The Power of Love" and "Because You Loved Me"
Building upon her rising fame, Celine Dion wasted no time capitalizing on her success. In 1993, she released the highly acclaimed and top-selling album, "The Colour of My Love." This album showcased Dion's signature romantic power ballads and featured notable tracks such as "When I Fall in Love," which graced the soundtrack of the popular film Sleepless in Seattle. Additionally, the album's lead single, "The Power of Love," soared to the top spot on the Billboard Hot 100, marking Dion's first No. 1 hit.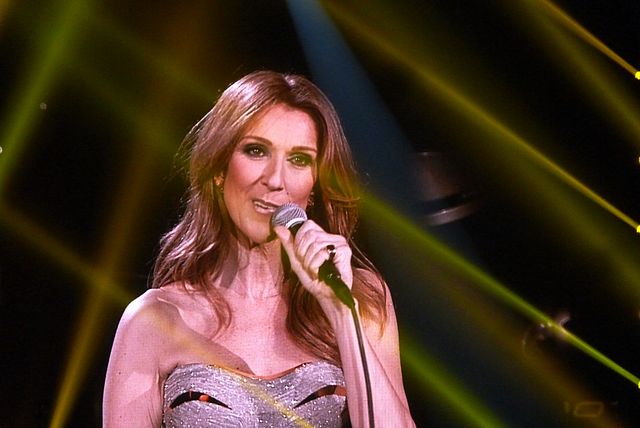 Credit to Yoyo76300 via CC Attribution-Share Alike 3.0
Dion's international stardom reached new heights with her unforgettable performance of "The Power of the Dream" at the 1996 Olympic Games in Atlanta. That same year, her album "Falling Into You" took the world by storm. The album included the chart-topping ballad "Because You Loved Me," featured in Robert Redford's heartfelt film, Up Close and Personal. Dion's remarkable achievement was acknowledged with Grammy Awards for Album of the Year and Best Pop Album, solidifying her status as a global superstar.
Titanic Film and "My Heart Will Go On"
The year that followed brought even greater glory for Dion, as she became associated with the release of the monumental film Titanic (1997), starring Leonardo DiCaprio and Kate Winslet. Dion's rendition of the film's theme song, "My Heart Will Go On," became an iconic sensation. Titanic received a record number of Oscar nominations and took home 11 awards, including the esteemed Best Song category. Dion's heartfelt ballad resonated worldwide and dominated the airwaves.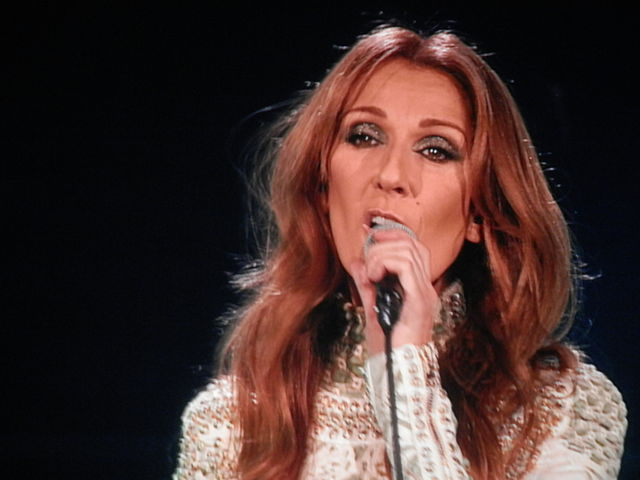 Credit to Mnmessina via CC Zero, Public Domain Dedication
The success of "My Heart Will Go On" extended beyond the film's soundtrack album. It was also featured on Dion's own Let's Talk About Love (1997), a remarkable achievement in its own right. The powerful ballad swiftly climbed to the top of the Billboard Hot 100, marking Dion's third No. 1 hit, and sold an astounding 50 million records globally. Let's Talk About Love showcased remarkable collaborations with esteemed artists such as Barbra Streisand, Luciano Pavarotti, the Bee Gees, and Bryan Adams.
In the following decades, "My Heart Will Go On" retained its popularity, even becoming the subject of internet memes. The song found itself played in various contexts or used to amplify particularly significant moments, creating a lasting cultural impact.
Awards and Tours in the Late '90s
In the late '90s, Celine Dion experienced a series of notable achievements and embarked on successful tours. In April 1998, she was honored with the National Order of Quebec, the highest recognition bestowed by her province. Later that year, Dion shared the stage with legendary artists such as Aretha Franklin, Mariah Carey, Gloria Estefan, and Shania Twain for the highly anticipated televised concert, Divas Live on VH-1.
While tirelessly touring and working on multiple albums, including S'il Suffisait d'Aimer and the holiday album These Are Special Times (both released in 1998), Dion reaped significant recognition at the Billboard Music Awards in late 1998. She garnered six awards, including Artist of the Year and Album of the Year for her 1997 masterpiece, Let's Talk About Love.
Her extensive tour, spanning 14 countries and commencing in the summer of 1998, culminated in a grand concert in Montreal on December 31, 1999, in celebration of the new millennium. During this period, Dion achieved her fourth No. 1 hit with the soulful duet "I'm Your Angel," featuring R&B singer R. Kelly, which was featured on the album These Are Special Times.
Health Issues and Husband's Death
In August 2014, Celine Dion made the difficult decision to cancel all her scheduled shows until March 22, 2015, in order to prioritize the care of her husband and children. René Angélil, her husband, had previously battled throat cancer in 1999 and successfully underwent treatment. However, the cancer had returned. In a heartfelt statement, Dion expressed her desire to dedicate her strength and energy to her husband's healing and support their children during this challenging time.
During that period, the superstar faced her own health challenges. In 2014, she experienced inflammation in her throat muscles, which prevented her from performing in her Las Vegas show, as mentioned in a press release.
In a 2015 interview with USA Today, Dion shared her perspective on her husband's cancer treatment, highlighting the impact it had on her. She acknowledged the difficult choices one faces when witnessing a loved one fighting a severe illness. Despite the emotional toll, she chose to be a source of unwavering support, stating, "I got you. I got it. I'm here. It's going to be just fine."
Tragically, on January 14, 2016, René Angélil passed away at the age of 73 in the family's Las Vegas residence. His death marked a profound loss for Dion and her loved ones, leaving a void in their lives.
Diagnosis of Stiff Person Syndrome (SPS)
In December 2022, Celine Dion made a revelation about her health, disclosing that she had received a diagnosis of a rare neurological disorder known as stiff person syndrome (SPS). This autoimmune condition manifests with severe muscle tightness and spasms, often accompanied by symptoms like double vision, coordination difficulties, and slurred speech. It is an extremely uncommon disorder, affecting only one to two individuals per million.
She had been experiencing spasms that significantly impacted her daily life, impairing her ability to walk and affecting her vocal cords. Consequently, she made the difficult decision to postpone the spring 2023 leg of her world tour until the following year, and ultimately had to cancel an additional eight performances. Dion reassured her fans in a statement, expressing her determination by saying, "I'm not giving up, and I can't wait to see you again!"
The Latest about Celine Dion
In August 2023, her sister Claudette gave an update on her health, saying that she is "doing better" but still "taking it slow." She also said that Celine is "praying for a miracle" and is hoping to return to the stage soon.
There is no official word yet on when Celine will be able to resume her tour, but her fans are hopeful that she will be back soon. In the meantime, she is continuing to focus on her health and spending time with her family.
Here are some other recent news about Celine Dion:
She was recently featured in a documentary about her life, titled "Celine Dion: Simply Amazing."
She is set to star in a new romantic drama film called "It's All Coming Back to Me."
She has also been working on a new album, which is expected to be released in 2024.
Final Words
Celine Dion's journey from stardom to unyielding resilience is a remarkable testament to her talent, dedication, and ability to overcome adversity. From her iconic hits like "My Heart Will Go On" to her chart-topping ballads such as "The Power of Love" and "Because You Loved Me," Dion has left a great mark on the music industry. Despite facing health issues and the heartbreaking loss of her husband, she has shown incredible strength and determination. Her recent diagnosis of stiff person syndrome and the subsequent tour postponement have further highlighted her unwavering spirit. Dion's journey serves as an inspiration, and her fans eagerly await the next chapter in her extraordinary career.